In ealier times laser lights for newcomers, beginners and amateurs just came with single colors or red-green laser sources. Now Laserworld offers an RGB white light laser system in their Ecoline Series for first-time users:
The Laserworld EL-230RGB show laser is the ideal entry level laser light with a green, a red and even a blue laser source. White laser beams are no problem thanks to color mixture.
Furthermore the show laser comes with a music mode, a stand-alone mode and a DMX mode.
The easy to use RGB laser light is a budget-priced device for mobile DJs, entertainers and small clubs.
The Laserworld EL-230RGB laser system offers 50 basic preset patterns, that can be displayed automatically or music-synchronous even by the most inexperinced users. The effects can also be triggered via DMX.
The white light show laser display has a guarateed output power of 170 mW: 100 mW (650 nm red), 20 mW (532nm green), 50 mW (445 nm blue). High-speed stepper motors provide the many patterns and effects.
The Laserworld EL-230 RGB beginner laser can already be purchased at a RRP of 157,- € net price. Market price may vary.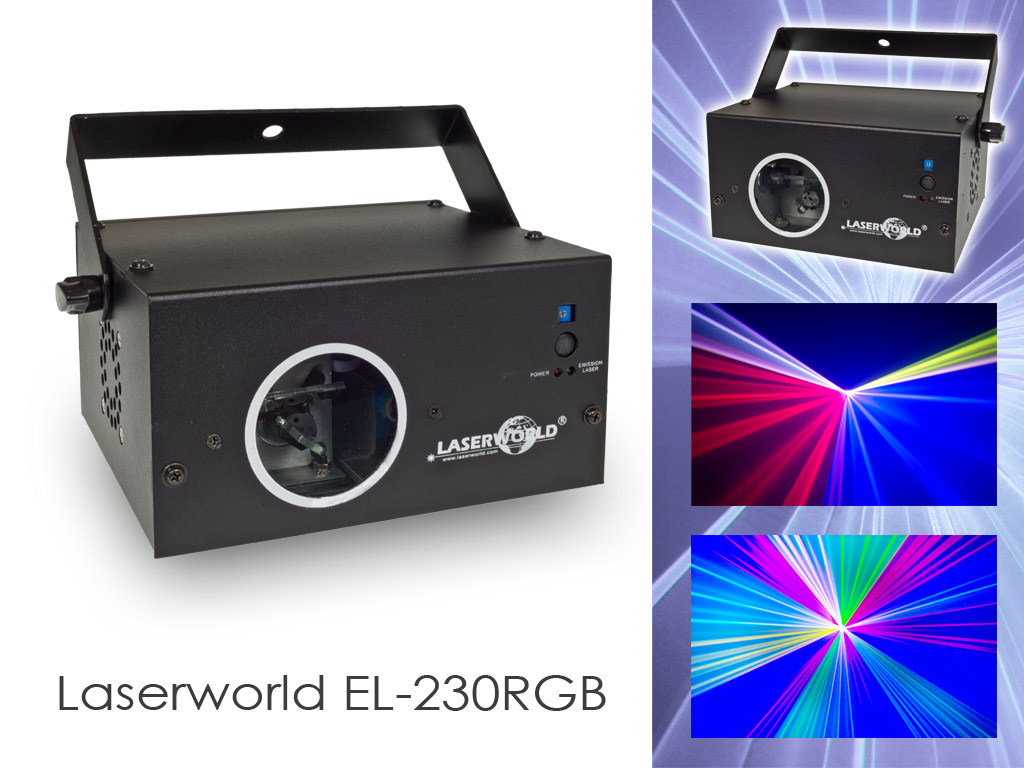 Detailed Informations:https://www.laserworld.com/shop/laserworld-el-230rgb?___store=en
Product Video:https://youtu.be/oSX0Wmvgug8
Laserworld Showeditor 2015 is Laserworld´s new laser show control software.
Laserworld Showeditor 2015 comes together with ShowNET LAN interface and is now available for purchase. The show laser software package offers easy operation for beginners as well as many deep customization options for professional users.
Laserworld´s Showeditor 2015 provides an interface for live laser shows as well as an interface for pre-prgrammed timeline based laser shows. Together with the ShowNET LAN interface the Laserworld Showeditor 2015 is sold for a manufacturer´s suggested retail price (MRSP) @ 329.- Euro (excl. VAT and shipping).
Over 100 free laser shows and pre-configured MIDI profiles are included. The Showeditor supports the import of ILDA-files (*.ild), thus graphics and animations can be shared with other software products via the microSD slot of ShowNET LAN interface. Files as such can be played manually or automaically via DMX.
Thanks to DMX import and export, Laserworld Showeditor can be controlled via DMX or can control other devices (e.g. intelligent lighting) itself. Improved MIDI features guarantee easy setup of own profiles and compatiblity with SMPTE timecode signals ensures support of professional multimedia applications.
Even more advanced laser shows can be created due to audio and video playback features.
The complete package includes Laserworld Showeditor 2015 software, ShowNET LAN-to-ILDA interface, a 0.4m ILDA cable, a short CAT-5 LAN cable and a small case with mounting for the ShowNET box.
Laserworld Showeditor 2015 is available in English, German, French, Spanish, Italian, Dutch and Romanian with more languages to follow. Manuals are available in English and German.
For a support forum, a tutorial section and an FAQ area, visit http://www.showeditor.com. Users are able to upload their own laser shows and share them with the laser show community.
More information about Laserworld Showeditor: http://www.showeditor.com
Laserworld Showeditor 2015 shop: Buy Laserworld Showeditor 2015