NEO SIX
RGB lighting effect it is possible to create completely new effects like wave effects of parallel beams, three-dimensional twist of beams and spectacular color fades. This beam array is a new lighting effect and a great new option for stage productions. It has been especially developed for professional touring and production companies.
Visitors of this year's prolight+sound got a first idea of the
RTI NEO SIX RGB
since lighting designer Jerry P. Appelt integrated 12 devices into the
multimedia show
at the PRG/LEA Stage. The 72 single laser beams of the 12 devices could be controlled individually by DMX in 16bit fine positioning mode.
It's a huge advantage that each beam can be set through DMX to an individual zero position and the position can even be saved. This features makes it easy to set beam positions e.g. on mirrors and it is a safe way to avoid manual beam aligning when the units are already set up at a truss.
Besides beam positioning and beam movement effects, additional basic effects e.g. circles to create tunnel effects or lines to create lines can be projected with each output. Even these built-in patterns can be triggered by DMX. The effect becomes most spectacular when several
NEO SIX
play side by side.
Use this link for details on the RTI
NEO SIX
RGB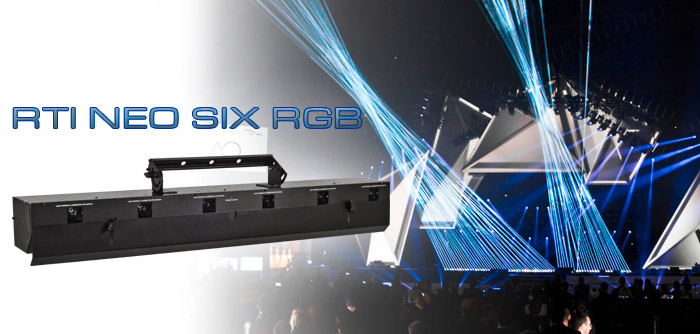 Laserworld EL-500RGB KeyTEX
show
laser light
. This RGB device is not only a normal laser system including stand-alone mode, sound-to-light mode and DMX, but it also comes with remote control and a keyboard for entering texts and animating these texts or patterns.
Up to now Laserworld already offered a very popular successor of the newly launched show laser. The ES-400RGB had very similar features but the new one offers more features like the text function. The
Laserworld EL-500RGB KeyTEX
is not just a text laser but a full laser system for entertainment purposes without using additional laser software.
It is possible to run the laser in the 'normal' scanner mode or to slide a diffraction grating into the beam outlet to multiply the projection and to cover a much wider angle. The multiplied patterns or texts cover surfaces with a RGB cluster effect.
Especially for mobile DJs, smaller clubs, night clubs or private parties, the Laserworld EL-500RGB KeyTEX is very interesting since it is easy to operate, is capable for projecting tunnel effects, layers and some basic shapes and figures. Most important is the feature to write custom messages and running texts in single or multi colors.
The Laserworld EL-500RGB KeyTEX has a very reasonable price-performance ratio and is available in the Laserworld online shop as well as at many Laserworld distributors.
Use this link to get more information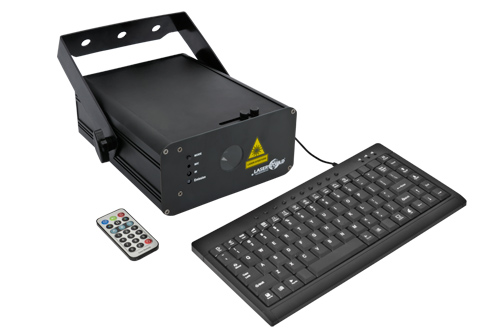 Laserworld Showeditor FREE was presented at prolight+sound 2016 for the first time to the public. It is a completely free ILDA laser show control software, that incorporates the utmost features of the Laserworld Showeditor full version except the direct output to a hardware interface. It can be used for creating logos, text, animations and aerial effects and exporting them to the standard *.ild file format. This file format is compatible to all ILDA standard SD-card playback systems for show laser lights, so the Laserworld Showeditor FREE can be used with SD-card lasers of almost any brand.
The Laserworld Showeditor FREE has all the frame and figure drawing tools that come with the full version. So the tracing of logos (from e.g. bitmap files) is possible as well as the easy creation of running or morphing texts. An abstract generator is included and various tools for special color application to the figures are available.
The Laserworld Showeditor FREE can be downloaded at http://free.showeditor.com
Laser systems with built-in SD-card playback system are e.g. the Laserworld PRO-800RGB and the Laserworld PRO-1600RGB. Laserworld Showeditor FREE creates fully compatible *.ild files for the use with these systems. But the files can be used with most playback laser systems of other brands as well.