Two, four or seven Watt RGB and [email protected]°ILDA together with a brand new browser interface for system configuration – these are the key facts that encourage to have a closer look at the new tarm Series. Tarm presented their new product line at this year's prolight+sound. The tarm series perfectly fits the company group's portfolio and replaces the RTI ATTO and RTI FEMTO systems.
"When doing the product development, we managed to use many synergy effects within our company group. This lead to a price level for the new tarm Series that is far below the one of the ATTO and FEMTO and even challenges the Pure Micro units." says Norbert Stangl, CMO of the Laserworld Group.
All tarm units have very fast scanner in common, running at [email protected]° ILDA and scanning a maximum scan angle of 60°, upgrades to CT-scanners with [email protected]° ILDA and a deflection angle of up to 80° are available on request. The beam specifications are rated at ca. 3.0mm/0.8mrad at full angle. These specifications definitely make the units suitable for professional applications.
The tarm two is specified with 340mW/638nm red, 600mW/520nm green and 1'000mW/450nm blue, and a total output power of guaranteed 1'800mW at aperture.
The tarm four is specified with 900mW/638nm red, 1'000mW/520nm green and 2'000mW/450nm blue, and a total output power of guaranteed 3'500mW at aperture.
The tarm seven is specified with 1'700mW/638nm red, 1'900mW/520nm green and 3'800mW/450nm blue, and a total output power of guaranteed 6'700mW at aperture.
The two higher powered units, the tarm four and the tarm seven, come with an advanced main board control via browser interface: It is possible to access the configuration settings for color, scanning and other parameters directly through a browser application by connecting to the laser via LAN (W-LAN with suitable access point). With this browser interface it is no longer necessary to physically access the laser projector (that is probably mounted in several meter height), but all configuration can be done remotely from any computer (PC, MAC, Linux), tablet or mobile phone.
Find more information on the new tarm Series on the website: https://www.laserworld.com/shop/tarm-lasers
NEO SIX
RGB lighting effect it is possible to create completely new effects like wave effects of parallel beams, three-dimensional twist of beams and spectacular color fades. This beam array is a new lighting effect and a great new option for stage productions. It has been especially developed for professional touring and production companies.
Visitors of this year's prolight+sound got a first idea of the
RTI NEO SIX RGB
since lighting designer Jerry P. Appelt integrated 12 devices into the
multimedia show
at the PRG/LEA Stage. The 72 single laser beams of the 12 devices could be controlled individually by DMX in 16bit fine positioning mode.
It's a huge advantage that each beam can be set through DMX to an individual zero position and the position can even be saved. This features makes it easy to set beam positions e.g. on mirrors and it is a safe way to avoid manual beam aligning when the units are already set up at a truss.
Besides beam positioning and beam movement effects, additional basic effects e.g. circles to create tunnel effects or lines to create lines can be projected with each output. Even these built-in patterns can be triggered by DMX. The effect becomes most spectacular when several
NEO SIX
play side by side.
Use this link for details on the RTI
NEO SIX
RGB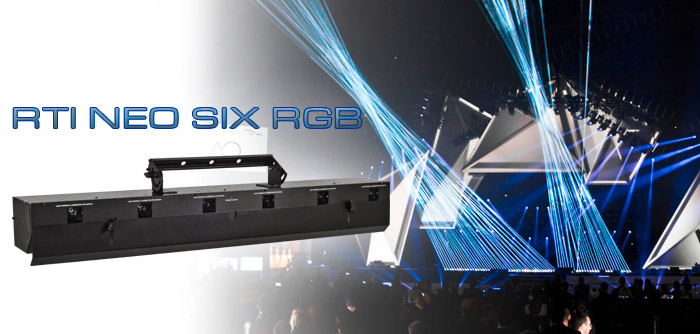 Laserworld EL-500RGB KeyTEX
show
laser light
. This RGB device is not only a normal laser system including stand-alone mode, sound-to-light mode and DMX, but it also comes with remote control and a keyboard for entering texts and animating these texts or patterns.
Up to now Laserworld already offered a very popular successor of the newly launched show laser. The ES-400RGB had very similar features but the new one offers more features like the text function. The
Laserworld EL-500RGB KeyTEX
is not just a text laser but a full laser system for entertainment purposes without using additional laser software.
It is possible to run the laser in the 'normal' scanner mode or to slide a diffraction grating into the beam outlet to multiply the projection and to cover a much wider angle. The multiplied patterns or texts cover surfaces with a RGB cluster effect.
Especially for mobile DJs, smaller clubs, night clubs or private parties, the Laserworld EL-500RGB KeyTEX is very interesting since it is easy to operate, is capable for projecting tunnel effects, layers and some basic shapes and figures. Most important is the feature to write custom messages and running texts in single or multi colors.
The Laserworld EL-500RGB KeyTEX has a very reasonable price-performance ratio and is available in the Laserworld online shop as well as at many Laserworld distributors.
Use this link to get more information