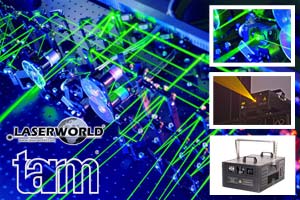 TARM is a well-established brand in the laser industry for more than35 years already. Since January 2016,
TARM laser
technologies is a member of the
Laserworld Group
.
The history of show
laser light
ing is closely linked to the TARM brand: Not forgotten is the era of the famous TARM Center in Bochum, Germany – a nightclub mainly equipped with
laser show
lighting effects – over 25 years back, at a time, when
laser show
technology was far more complex and resource demanding than modern systems.
Richard Krumhus, CEO of
TARM Laser
Technologies tlt GmbH: "Joining the
Laserworld Group
, the largest manufacturer and distribution company of show
laser light
systems worldwide, offers us completely new possibilities in terms of synergies in product development, logistics, marketing and sales. Several development projects have already been initiated."
With TARM becoming a Laserworld company, the market of show
laser light
systems continues its change process. The
Laserworld Group
now can cover the High End market with three brands – RTI, HB-Laser and TARM, the mid-range segment with HB-Laser, TARM and SwissLas and the entry level and semi-pro market with their own Laserworld brand.
"Each Laserworld company has its individual strength in certain product ranges or fields of services. By implementing TARM tlt to the Group, Laserworld gains additional possibilities for satisfying customer demands on an even wider range" says Norbert Stangl, CMO of the Laserworld Group. "More developments are upcoming."
Laserworld Showeditor 2015 is Laserworld´s new laser show control software.
Laserworld Showeditor 2015 comes together with ShowNET LAN interface and is now available for purchase. The show laser software package offers easy operation for beginners as well as many deep customization options for professional users.
Laserworld´s Showeditor 2015 provides an interface for live laser shows as well as an interface for pre-prgrammed timeline based laser shows. Together with the ShowNET LAN interface the Laserworld Showeditor 2015 is sold for a manufacturer´s suggested retail price (MRSP) @ 329.- Euro (excl. VAT and shipping).
Over 100 free laser shows and pre-configured MIDI profiles are included. The Showeditor supports the import of ILDA-files (*.ild), thus graphics and animations can be shared with other software products via the microSD slot of ShowNET LAN interface. Files as such can be played manually or automaically via DMX.
Thanks to DMX import and export, Laserworld Showeditor can be controlled via DMX or can control other devices (e.g. intelligent lighting) itself. Improved MIDI features guarantee easy setup of own profiles and compatiblity with SMPTE timecode signals ensures support of professional multimedia applications.
Even more advanced laser shows can be created due to audio and video playback features.
The complete package includes Laserworld Showeditor 2015 software, ShowNET LAN-to-ILDA interface, a 0.4m ILDA cable, a short CAT-5 LAN cable and a small case with mounting for the ShowNET box.
Laserworld Showeditor 2015 is available in English, German, French, Spanish, Italian, Dutch and Romanian with more languages to follow. Manuals are available in English and German.
For a support forum, a tutorial section and an FAQ area, visit http://www.showeditor.com. Users are able to upload their own laser shows and share them with the laser show community.
More information about Laserworld Showeditor: http://www.showeditor.com
Laserworld Showeditor 2015 shop: Buy Laserworld Showeditor 2015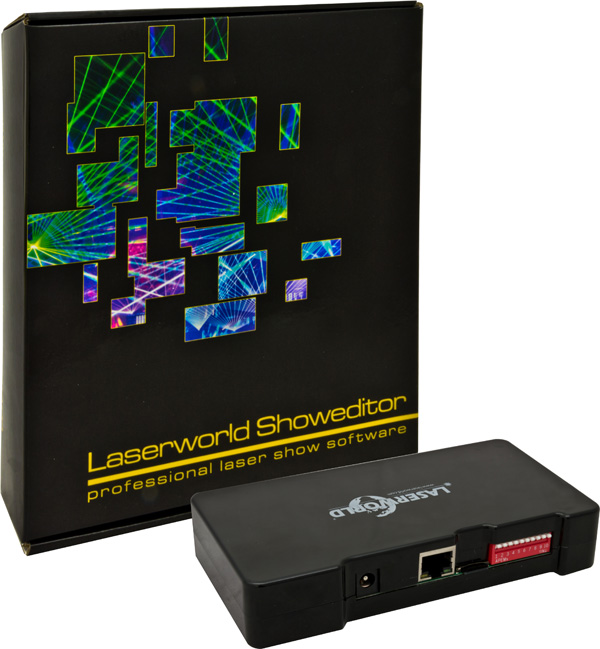 Further Laserworld warehouses are situated at Laserworld USA in Florida, USA and Laserworld ASIA in Shenzhen in China. In addition, there are several big distribution partners all over the world, storing many products manufactured by the
Laserworld Group
. This fact ensures that these products can be shipped to the customers in very short delivery periods.
Laserworld's Service and After Sales Department is also located at the new location next to Munich. Both departments enlarge the European Service Center which was already located in Germany.
The new contact details of the Service Department are provided here:
https://www.laserworld.com/en/support/customer-returns-service.html
Personal visits require prior consent, as there are no direct sales and no show room at the premises.