2018, Laserworld revised their Purelight Series so the show laser systems now come in an even smaller housing, with less weight and enhanced laser sources. All in all the new units offer a great white balance as well as high power for a low price.
The new Purelight Series consists of laser lights with 6 W, 10 W and 20 W output power. All systems offer graphics capable scanning systems with 30 [email protected]°ILDA. The fast scanners make the laser displays ideal for many laser show application, especially where graphics, logos and animated images have to be projected.
There is no air circulation within the optics section of the laser Purelight systems, so the maintenance effort is reduced to a minimum.
The Laserworld Purelight Series is designed for customers who demand high power yet low costs. The units are used in large nightclubs, festivals, outdoor stages and any kind of application that requires high power and a good white balance.
More information on the Laserworld Purelight Series: https://www.laserworld.com/laserworld-purelight-series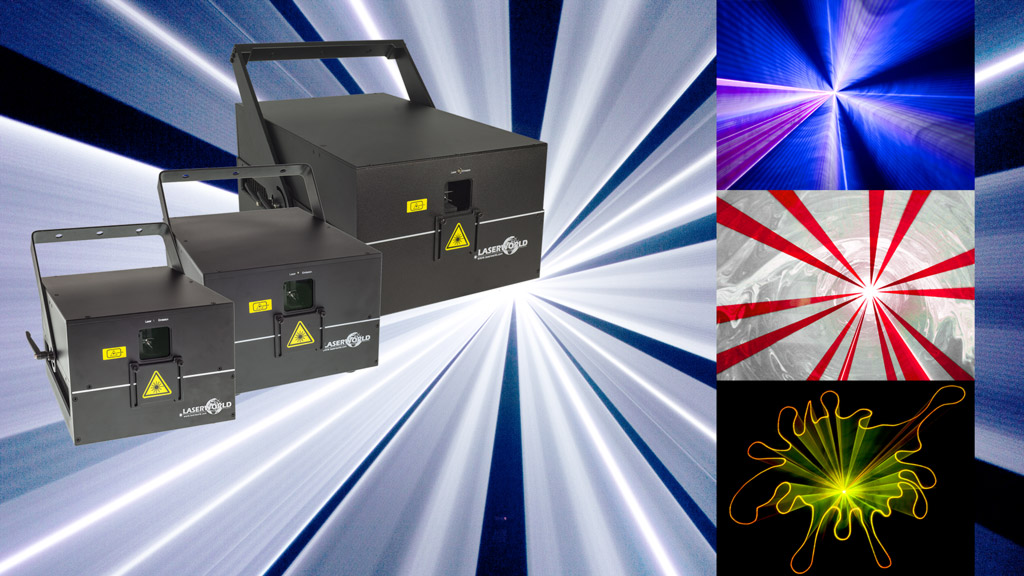 Showeditor
professional laser control software in Version 6. Several new features have been added, and many other improvements have been made.
Some of the new features are:
Live Window:
Default Live Show: It is possible to define a default live show setup and it is also possible to load this default setup manually.
Master Speed: Fader for Master Speed has been added to allow for even better show control with external fade consoles (DMX/MIDI)
Master Intensity Fader: The Master Intensity Fader has been improved to allow for even better show control with external fade consoles (DMX/MIDI)- Color Shift Fader: The new color shift fader allows for smooth color changes during a live show. Due to it being on a fader, it also eases control with an external console.
Timeline Window:
Fade-in and Fade-out effects: One-click Fade-in and fade-out effects have been added as quick-access buttons for easier show programming
General:
Mixed Color Power Limiter: "Maximal CYM-W Power", a power limiter for mixed colors of each output hardware, has been integrated on a test basis. See "Options" => "Color Correction"
Explanation: Assuming that every single laser color of an RGB projector is already powerful enough to reach the MPE, the combination of two or more colors (e.g. yellow, cyan, purple, white) will exceed the MPE. Therefore the power of white is limited to the MPE and the power of the three single colors is limited to 33% of the MPE each. The power of the RGB sources is reduced, but the hue remains the same.
All license owners for Laserworld
Showeditor
2015 can upgrade free of charge by just downloading the latest version and installing it:
Download the latest version of Laserworld Showeditor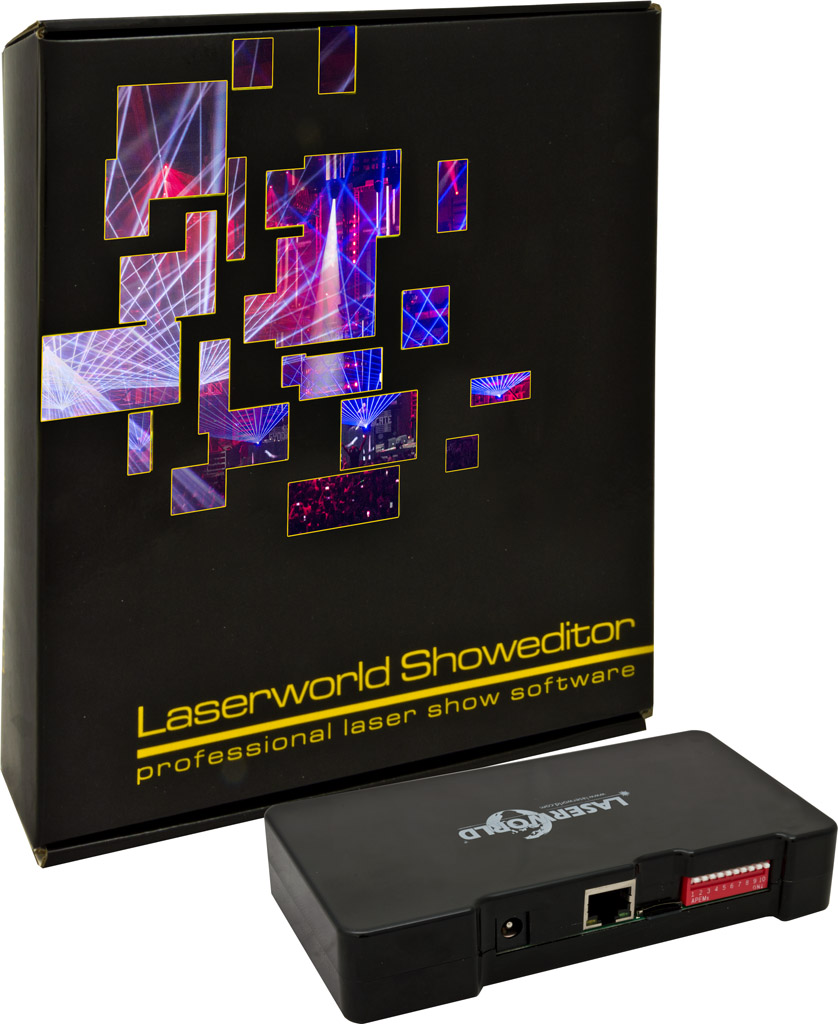 Laserworld's Purelight Series with 6W, 10W and 20W offers high power for a low price with a good white balance. This makes the units well suitable for high power applications in bigger venues.
Laserworld's Purelight systems are powerful white light RGB laser systems with a power range between 6 and 20W. The three offered RGB systems have a good white balance with homogeneous beam profile and analogue color modulation. Lasers of the new Purelight Series have a compact housing, thus they easily integrate with existing lighting setups and established room concepts. Due to the rugged mounting bracket, the Purelight laser systems can be mounted in standing and hanging position, thus it is possible to hang the units from a truss or mount them on top of a stand. Laserworld Purelight systems are especially suitable for beam shows with longer beam distances, e. g. at festivals or bigger stage shows.
The devices are completely equipped with diodes and fast scanners, which also allows for graphics projections. The trim pots at the back side of the projector can be used for adjusting the intensity per color channel. Buttons for switching the Scan Safety as well as flipping the x- and y-axis are available as well.
"The Purelight laser systems are extremely efficient, especially for their low price," said Norbert Stangl, CMO of the Laserworld Group, who co-developed the Purelight systems. "There is a significant need of strong laser systems for festivals and large stages at a low price, which became obvious over the last few months. Due to the large manufacturing quantities and technical developments we had the chance to dramatically reduce the production costs."
The dust-proof optics section makes the Purelight lasers nearly maintenance free.
The Laserworld Purelight systems are available from € 3,495.- for the PL-6000RGB, from € 5,900.- for the PL-10.000RGB and from € 11,900.- for the PL-20.000RGB. These prices are the recommended retail price, plus VAT and shipping.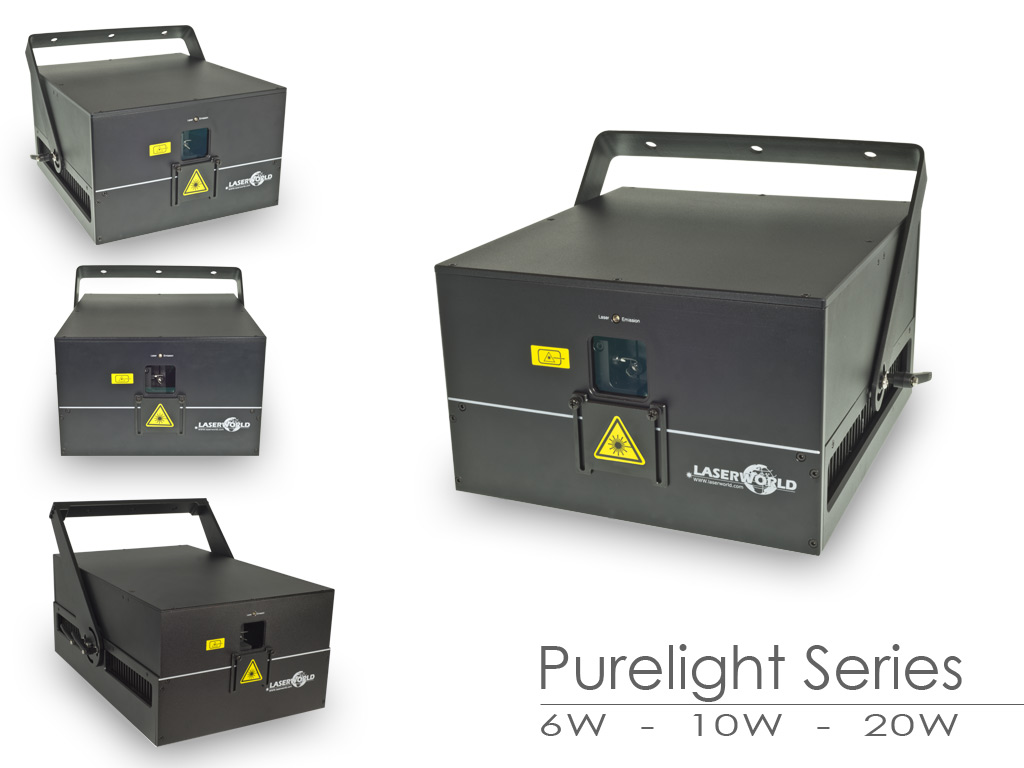 Detaillierte Produktdetails:https://www.laserworld.com/shop/laserworld-lasers/laserworld-purelight-series?___store=en