At this year's prolight + sound exhibition in Frankfurt, Germany, Laserworld presented new versions of the Diode Series show laser systems with improved beam specifications in a redesigned hosuing.
There are several different power levels available: 1 W, 2 W and 3 W RGB, as well as 1.8 W single green and 1.6 W or 5.5 W single blue. All Diode Serieslaser displays offer graphics capable scanning systems with 30 kpps@8°ILDA.
As there is no air circulation within the optics section of the laser light, the maintenance effort is reduced to a minimum.
The Laserworld Diode Series is a versatile low cost solution for beginners and professionals as well. They are particularly suitable for bars, restaurants, nightclubs and smaller festivals.
More information on the Laserworld Diode Series: https://www.laserworld.com/shop/laserworld-lasers/diode-series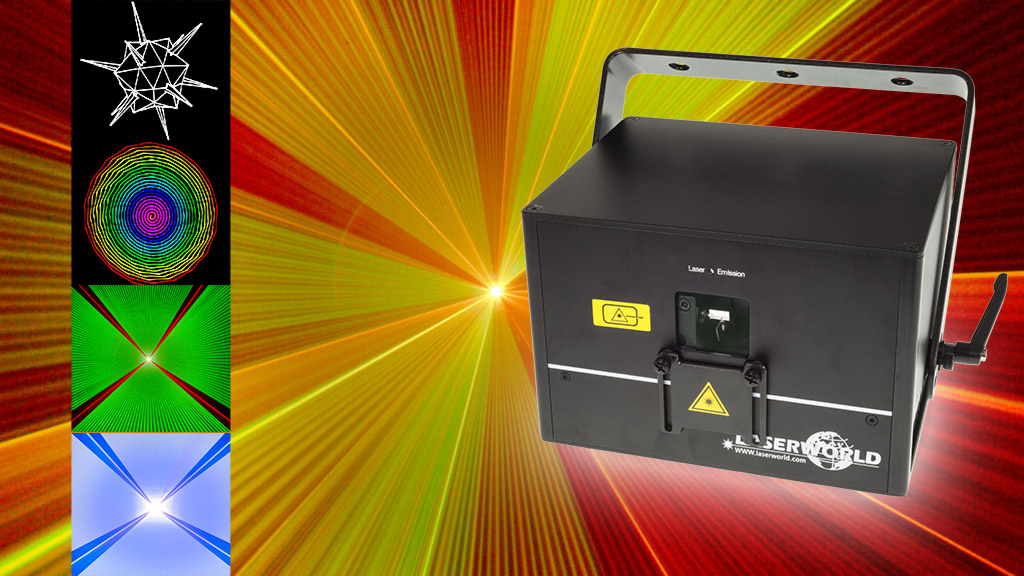 10 years of changing the industry – 10 years Laserworld AG
Throughout the past 10 years, the show laser light industry has undergone, and still undergoes, a significant change process: The manufacturing of show laser light systems has separated from the laser show creation and laser show production. Some of the formerly big names in the industry have vanished or have been sold. Technological developments made home-building of show laser light systems uneconomical, lead to a significant price drop for laser systems in general and provided new opportunities for high precision manufacturing specialists to develop more and more advanced laser source technology.
Throughout the past 10 years, the Laserworld AG with its Laserworld Group actively took part in the change process of the industry: Technological and product innovations combined with a holistic economical approach quickly lead to significant market shares and made the Laserworld Group being one of the largest show laser light manufacturing and distribution companies in the world.
How everything started:
Martin Werner, the founder and CEO of the Laserworld AG, started with changing the markets by importing custom-built or custom-modified low-priced laser systems from China. Soon own production lines were established, the product portfolio grew year by year and end of 2007 Laserworld AG was founded at Lake Constance, right next to the border to Germany.
The establishment of a management structure for the company in 2009 paved the way for the Laserworld Group as global group of different companies with different responsibilities under the roof of the Laserworld AG.
In 2008 Laserworld began to use SwissLas high precision diode array modules in red and blue for the high professional product ranges. The significant price drop for the blue 445nm diodes in 2010 made the development of the extremely compact Pure Micro laser systems possible, which initiated a general downsizing run in the industry. In 2011 Ray Technologies (RTI) became part of the Laserworld Group, as well as Laserworld UK, Laserworld China and Laserworld USA. More international entities, like Laserworld Ibérica, Laserworld Korea, Laserworld India, Laserworld Turkey as well as Laserworld Asia have been added to the Laserworld Group through the following years.
End of 2015, tarm laser technologies joined the Laserworld Group, too. Meanwhile the central logistics center of the Laserworld Group as well as the central Service Center have been moved to Valley (Bavaria) in Germany.
What made Laserworld that successful?
It were the customers. And understanding the customers' demands.
Unlike many other companies in the laser show industry, Laserworld did not grow from a small workshop, where a technician built laser units to use them for his own shows.
Laserworld grew from an economical approach towards a technical topic: Offering show laser light systems for different customer groups meeting the specific demands of each group. Synergetic effects within the company group as well as volume-based sourcing allowed for a very competitive price structure and a high level of standardization and streamline processes.
Laserworld hired experts in their field of business: Expert technicians, logistics experts, Sales professionals and Marketing magicians. That way the expert technicians do not need to do anything other than being experts in laser system development and manufacturing of high end units, which improved efficiency to the max.
What will the future be?
Laserworld knows the show laser light market very particularly. New innovations became rare and only the larger companies were able to push product development further. The base technologies used by many smaller manufacturers are not the same as the technologies large scale high end manufacturers like RTI use, as the technological development of laser diode arrays has in fact gone much further than just combining single laser sources - it's not possible to achieve this technological level without significant investment into product development any more.
The expansion of the Laserworld Group has not ended yet: New sales offices in different markets will be established and more partners will join our network, and potentially also the Group itself.

Find more information about the Laserworld Group on https://www.laserworld-group.com/
-------------------------------------------------------------------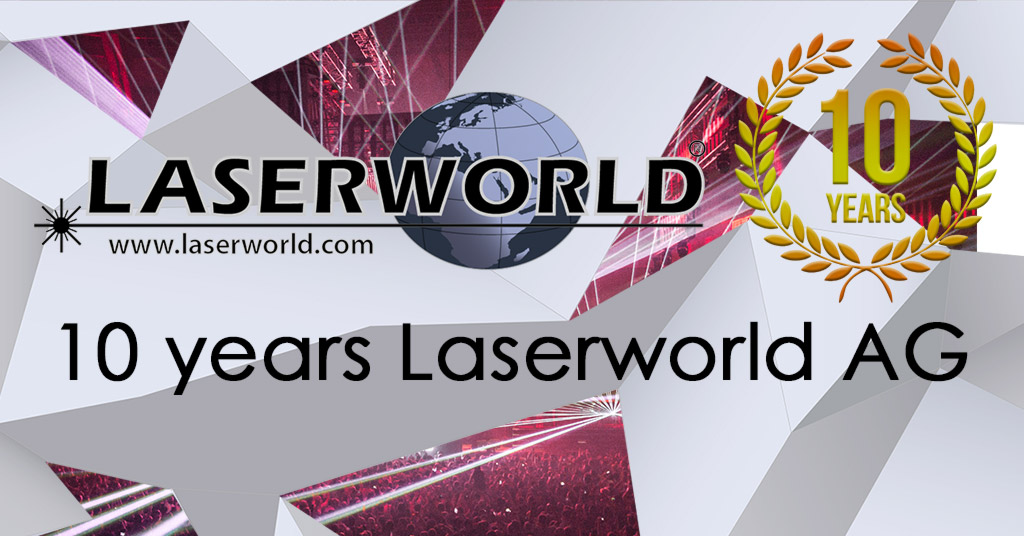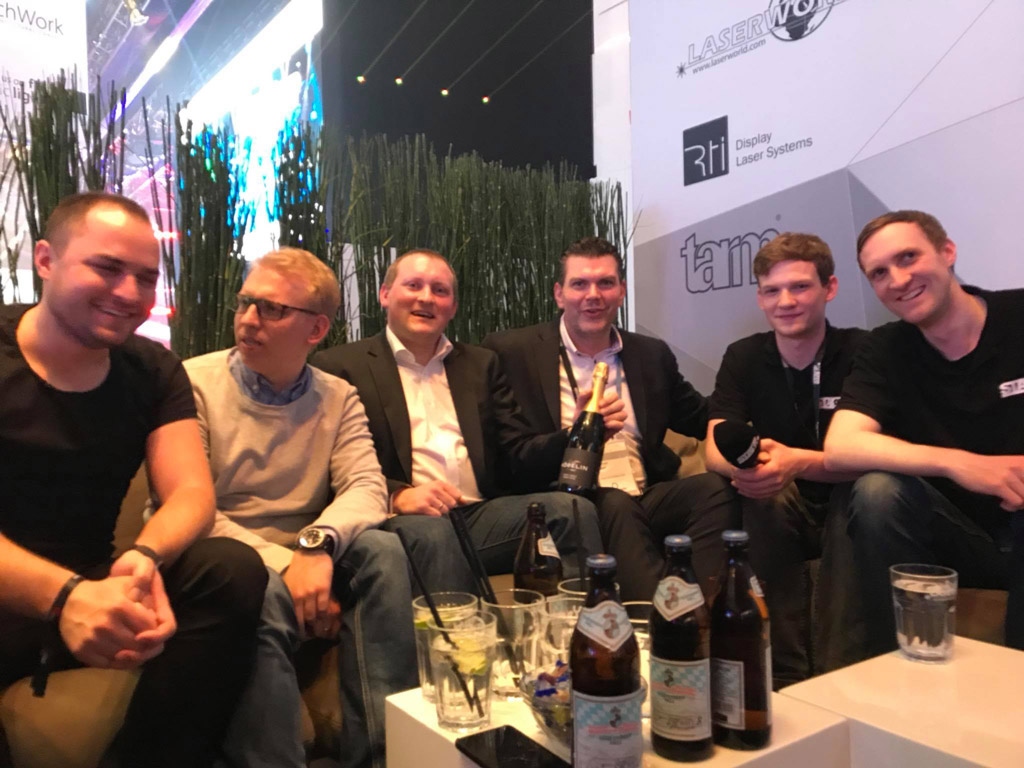 Last year, the modular RTI NEO ONE show laser devices were presented on prolight + sound 2017. This year, they were a big part of the highlight show on PRG stage for prolight + sound 2018.
The RTI NEO ONE units can be integrated very easily into existing control options with DMX / ArtNET. The other main feature of the devices is the design as a multi-projector-system, where several units can be attached to each other and to the PSU with an easy quick-lock mechanism. Due to their octagonal shape, the laser displays can be arranged in many different shapes, e.g. circles or high power laser arrays.
The RTI NEO ONE is a powerful white light RGB laser projector with 3.3 W. Up to six show lasers run with only one PSU and a combined power of nearly 20 W per meter. This makes them even suitable for large scale applications.
Besides the DMX control, the RTI NEO ONE offers direct control via laser control software and a built-in controller with several other playback features. With the including free software, ILDA patterns can be created and displayed.
The high scan speed of 45 kpps@8°ILDA allows for graphics and logo projections.
Due to dimensions of 220 x 185 x 185 mm and a weight of 6.5 kg, the RTI NEO ONE is very compact and lightweight for easy travelling and a fast set-up.
The RTI NEO ONE was especially designed for the usage as an array, maxtrix or other shapes with several RTI NEO ONE devices combined.
This is why lighting designers and professional production campanies use RTI NEO ONE laser displays for innovative lighting effects and designs.
Have a look at the RTI NEO ONE devices in action: https://www.youtube.com/watch?v=UdNDa_clni4
More information on the RTI NEO ONE show laser systems: https://www.laserworld.com/shop/rti-neo-one