LaserAnimation's Lasergraph DSP is a laser show control solution that is in the market for many years already. The Lasergraph DSP got it's reputation as a fail-safe controller and was mainly used by high end professional companies. As the Lasergraph DSP is designed as a de-central processing unit, it does not transmit demanding system control data, but can run on its own or only triggered by low-density control signals.
The Lasergraph DSP was known in the industry for a special user interface which may look a bit "old school". This has changed a lot with the latest release of the LG-Remote remote control software for the DSP: The redesign and partial rearrangement of features dramatically improved the look and feel of the software itself.
"The main advantages of the de-central DSP laser controller are the fail-safe architecture and the excellent output quality – this kind of output is only possible due to the special setup: Every controller can run on its own and does not require permanent connection to the control computer. Everything is wired through LAN, but does not create heavy load on the LAN infrastructure, as the actual signal processing happens in the controller - which is a complete "computer" by itself" says Norbert Stangl, CMO of the Laserworld Group. "We are happy to have the Lasergraph DSP on distribution now, as we definitely see the demand for such professional solutions rising – especially in the field of professional multimedia control."
The Laserworld Group started the distribution of Lasergraph DSP in April 2016, and a new licensing model made the DSP show control systems more affordable: Due to "Master-Slave" licensing it is possible to combine several low priced slave-units with one master unit only.
Users of the LaserAnimation Lasergraph DSP can attend free pro-training seminars, which are not limited only to the use of the software itself, but also cover the multiple interactivity capabilities with other devices and especially timecode.
Details on the Lasergraph DSP: https://www.laserworld.com/shop/laser-control-software/lasergraph-dsp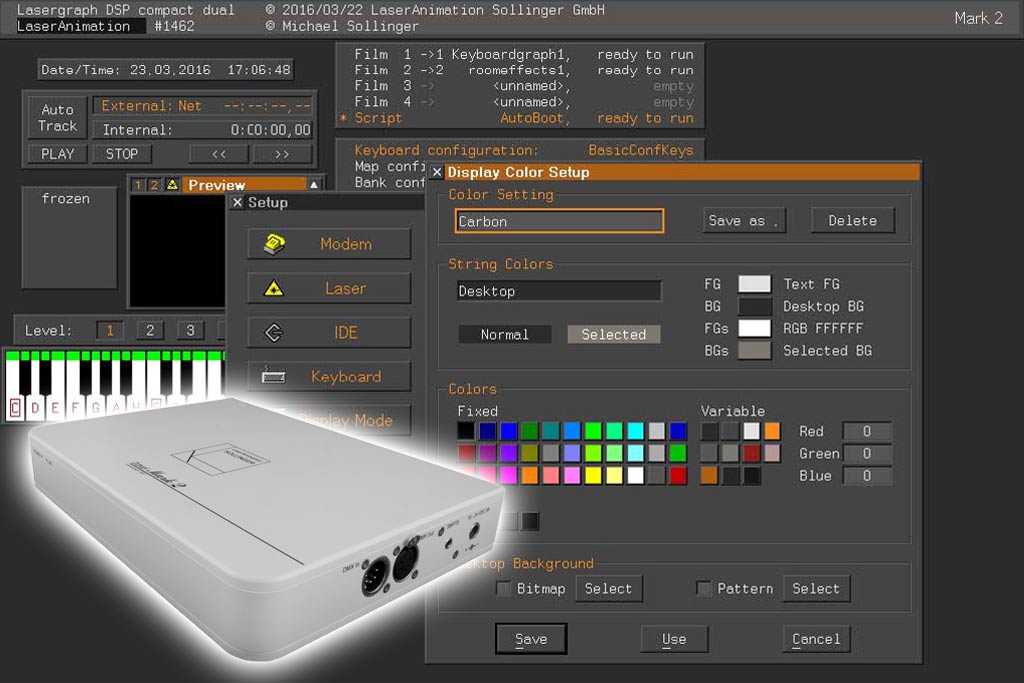 Two, four or seven Watt RGB and 45kpps@8°ILDA together with a brand new browser interface for system configuration – these are the key facts that encourage to have a closer look at the new tarm Series. Tarm presented their new product line at this year's prolight+sound. The tarm series perfectly fits the company group's portfolio and replaces the RTI ATTO and RTI FEMTO systems.
"When doing the product development, we managed to use many synergy effects within our company group. This lead to a price level for the new tarm Series that is far below the one of the ATTO and FEMTO and even challenges the Pure Micro units." says Norbert Stangl, CMO of the Laserworld Group.
All tarm units have very fast scanner in common, running at 45kpp@8° ILDA and scanning a maximum scan angle of 60°, upgrades to CT-scanners with 60kpps@8° ILDA and a deflection angle of up to 80° are available on request. The beam specifications are rated at ca. 3.0mm/0.8mrad at full angle. These specifications definitely make the units suitable for professional applications.
The tarm two is specified with 340mW/638nm red, 600mW/520nm green and 1'000mW/450nm blue, and a total output power of guaranteed 1'800mW at aperture.
The tarm four is specified with 900mW/638nm red, 1'000mW/520nm green and 2'000mW/450nm blue, and a total output power of guaranteed 3'500mW at aperture.
The tarm seven is specified with 1'700mW/638nm red, 1'900mW/520nm green and 3'800mW/450nm blue, and a total output power of guaranteed 6'700mW at aperture.
The two higher powered units, the tarm four and the tarm seven, come with an advanced main board control via browser interface: It is possible to access the configuration settings for color, scanning and other parameters directly through a browser application by connecting to the laser via LAN (W-LAN with suitable access point). With this browser interface it is no longer necessary to physically access the laser projector (that is probably mounted in several meter height), but all configuration can be done remotely from any computer (PC, MAC, Linux), tablet or mobile phone.
Find more information on the new tarm Series on the website: https://www.laserworld.com/shop/tarm-lasers
Visitors of this year's prolight+sound got a first idea of the
RTI NEO SIX RGB
since lighting designer Jerry P. Appelt integrated 12 devices into the multimedia show at the PRG/LEA Stage. The 72 single laser beams of the 12 devices could be controlled individually by DMX in 16bit fine positioning mode.
It's a huge advantage that each beam can be set through DMX to an individual zero position and the position can even be saved. This features makes it easy to set beam positions e.g. on mirrors and it is a safe way to avoid manual beam aligning when the units are already set up at a truss.
Besides beam positioning and beam movement effects, additional basic effects e.g. circles to create tunnel effects or lines to create lines can be projected with each output. Even these built-in patterns can be triggered by DMX. The effect becomes most spectacular when several NEO SIX play side by side.
Use this link for details on the RTI NEO SIX RGB