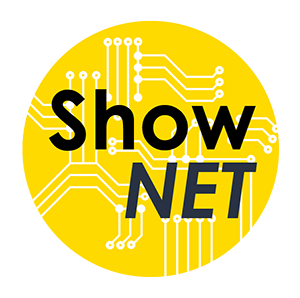 The powerful ShowNET laser mainboard is directly compatible with various software products: There is an API available that lets software directly communicate with the mainboard without the need of further licenses or hardware in between - just direct network connection between the software and the laser.
The compatibility is not limited to classic laser software - various softwares for different kinds of applications are already compatible, and many more are currently in the integration process.



These software programs currently support direct output through the ShowNET laser mainboard: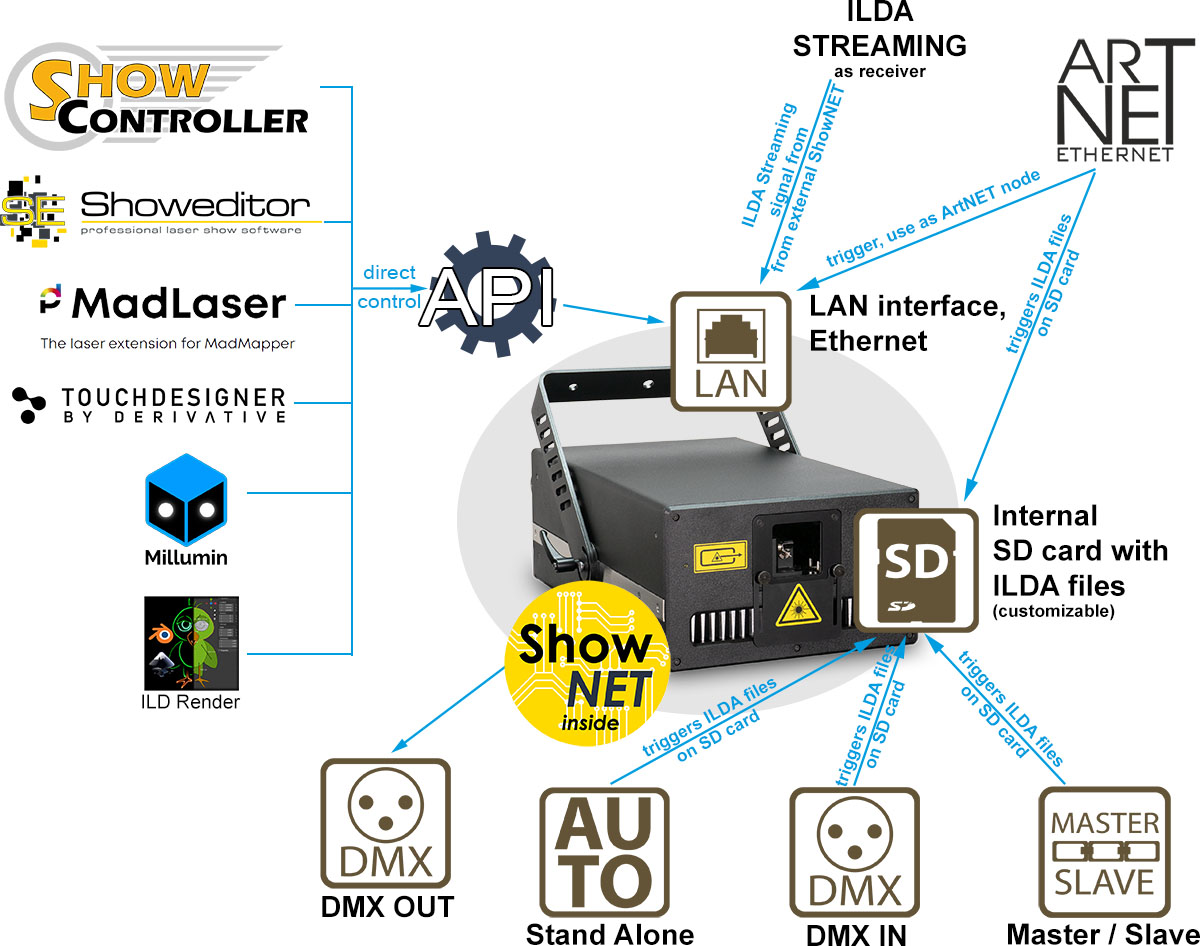 What is ShowNET?
ShowNET is a multifunctional laser mainboard with a wide range of functions for the modern use of show laser systems. Equipped with an integrated digital-to-analogue converter, ShowNET enables direct network control of the laser system via a computer with various software programs. Furthermore, lasers with ShowNET can be controlled directly via a DMX or ArtNet controller (hardware or software) and thus integrated into professional lighting control setups.
Hardware versions
ShowNET is available in two versions: as an integrated mainboard or as an external interface. As an external hardware interface, ShowNET is compatible with any laser system with an ILDA interface. Laserworld also equips all computer-controllable lasers (from the Diode series upwards) and all tarm and RTI models (with the exception of the NEO and ANGO series) with an integrated ShowNET mainboard as standard.
SD card
In both versions, the ShowNET has an integrated SD card, which is equipped ex works with a variety of patterns and animations in ILDA format. If required, users can customise the contents of the SD card and exchange them for their own ILDA files, for example to use individual animations, graphics, logos and complete laser shows. The ILDA files on the SD card can be triggered individually via DMX and ArtNet and act as a content library for the automatic modes of the laser system.
Operating modes
Laser systems with ShowNET mainboard/interface offer a comprehensive selection of operating modes and functions:
The automatic modes include sound-to-light, a music mode, master/slave and two automatic modes for automatic playback of ILDA files on the integrated SD card
The DMX modes offer two DMX profiles: the DJ mode with a reduced number of DMX channels and the professional mode with 34 channels and integrated setup mode for higher-level settings for laser safety and laser calibration without a computer, which can then be saved directly back to the laser mainboard via DMX.
The ArtNet operating mode enables comprehensive laser control via conventional lighting consoles, ArtNet controllers or lighting software (software remote control via ArtNet). In this way, powerful functions can be used in conjunction with the laser system, such as the use of effect generators via ArtNet controllers or ArtNet software.</li
In DAC mode, lasers with ShowNET can be controlled directly via various software programs on a computer*. In this case, the ShowNET acts as an interface and converts the digital network signal from the computer into an analogue control signal for the laser. Various software programmes are compatible, there is also an API for software connection.</li
ILDA streaming enables the transmission of ILDA data over long distances in the network. The ShowNET acts as a converter and transmitter/receiver for this purpose.</li
*Every laser system with integrated ShowNET and the external ShowNET interface is supplied with a free licence for Showeditor.
Admin Tool
The ShowNET Admin Tool is a powerful software and administration tool for setting up and configuring laser systems with ShowNET laser mainboard. The most important functions at a glance:
Setup mode
Safety zones
Scan speed
Colour correction
Access to SD card
Network configuration
Firmware update
v.m.