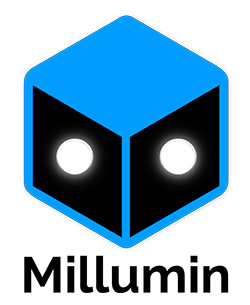 What is Millumin?
Millumin is a professional software for video mapping and interactive installations. It is a complete solution to create audio visual shows for theaters, dance events, architectural mappings and installations, artistic use, and LED and lighting control.
With a wide variety of interfaces to input as well as output devices, Millumin is an extremely versatile tool for multimedia control. Timeline and sequencers as well as plugins to AfterEffects and Cinema 4D are available. Intelligent lighting fixtures can easily be integrated with DMX, Output can be routed to multiple screens, and much more. Various sensors can be integrated as well, which allows for interactive control of media content.
With the integration of the ShowNET API to Millumin it is possible to directly output content to laser, without the need of additional software or licenses running in the background. A LAN connection from the computer to the laser is sufficient, Millumin handles the rest. With having the laser output capability through the ShowNET laser mainboards, Millumin can be used to enhance conventional mappings with laser content and dynamically create laser content from other media sources.