The popular CS-2000RGB gets an upgrade: the Laserworld CS-2000RGB FX!
The now available Laserworld CS-2000RGB FX show laser has three special grating effects, which make the many patterns stored on the laser a even more impressive.
The line grating duplicates the displayed image on a horizontal line as if it were displayed by several show lasers. It is up to the user whether the effects are presented very tightly to make the image look blurred, or the patterns are fanned out very broadly to fill the room completely.
The burst grating does not only scatter the pattern in a line, but also in the vertical plane, in order to let e.g. a whole wall shine with the laser effects.
The radial grating creates circular patterns that enable particularly unusual effects that cannot be achieved with conventional laser equipment.

Due to the automatic mode, the laser does all the work and automatically displays the patterns with the different effects one after the other.
In music mode, patterns and effects are selected to match the background music played in the bar or nightclub. Quite simple!
If you prefer to take control yourself, you can do that as well. The Laserworld CS-2000RGB FX has a DMX interface to control it e.g. via a light console and to integrate the laser quickly into existing setups.
Via the ILDA interface it can also be operated with a computer and own laser shows can be projected.
Specifications
2 W typical total power
beam parameters of approx. 3 mm and 2 mrad
galvo system with fast 30 kpps@4°
approx. 200 basic patterns
three integrated gratings (line, burst & radial)
Master-Slave mode
compact housing incl. mounting bracket
ideal for bars, medium sized clubs, mobile DJs and home use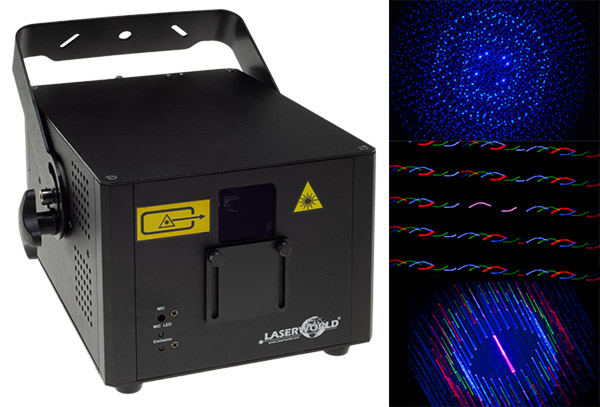 More information on the Laserworld CS-2000RGB FX



Downloads: