Laserworld Group
opened their Korea office recently. It was important for Laserworld to have a central location and so Daejeon was chosen. Laserworld Korea handles sales in the area as well as providing local show
laser light
services.
"Especially high quality, high power show
laser light
systems of European manufacturing are in demand" says Peter Jeong, managing director of Laserworld Korea. "We definitely know of the demand for quality products in our country and thus see great potential for products of the
Laserworld Group
of any product series."
Product information and contact details in Korean language are available at
http://korea.laserworld.com
Peter Jeong can be directly contacted at +82-70-7592-4484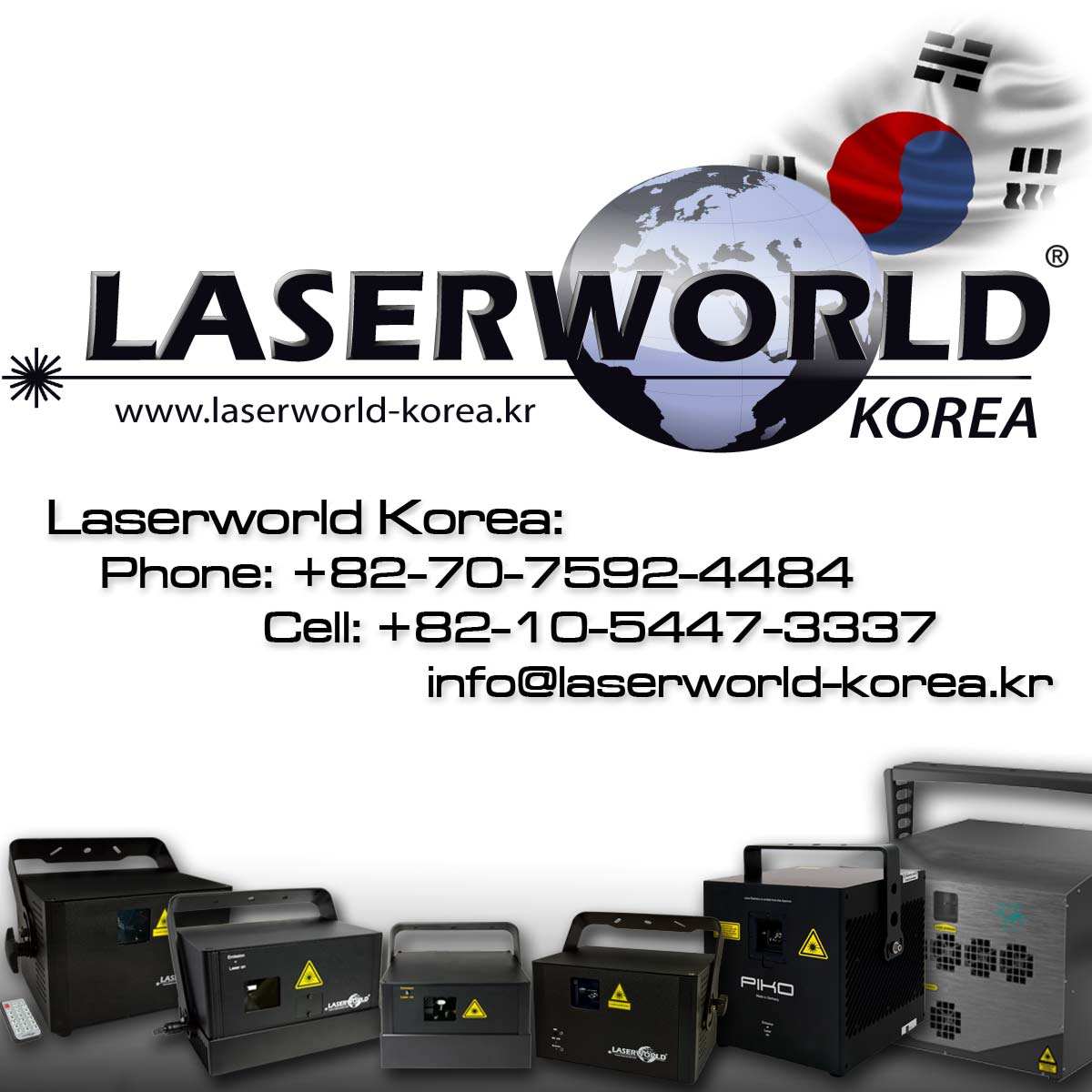 Lasergraph DSP
, the professional, de-central
laser show
control solution, is now available at Laserworld as of August. Many of the high-profile show designing companies have relied on Laseranimation's
Lasergraph DSP
for many years: The
Lasergraph DSP
controllers provide extreme output performance, as they are small computers on their own which handle the whole output processing in a decentralized way. This means, that there is only a small program necessary to remotely access the de-central units over network (LAN) – the actual programming as well as the output calculation is done in the
Lasergraph DSP
controllers. It is possible to connect a multitude of DSP units via LAN and run them in one huge network – this is how huge shows can be controlled. Synchronizations with other media can easily be done over SMPTE timecode and the whole setup can be remote controlled over DMX or MIDI. DMX remote control is heavily used for high professional live performances with Lasergraph DSPs: The whole laser setup can be controlled through e.g. a GrandMA or Avolites console – which allows for awesome effects and transitions, as faders and effects generators can be used.
The
Laseranimation Lasergraph DSP
is available as a 19" rack mount unit and as travel version, both housing types are available as single or dual channel configuration.
The mobile DSP, with full name "
Lasergraph DSP travel Mark 2
", is extremely compact so especially suitable for travel. As the DSP units are capable of auto-play and stand-alone operation as well, these mobile units can also be used for pre-programmed installation projects, exhibitions and corporate displays. They can playback on power-on – this also applies for power on after a power cut, which is extremely important during any kind of event: The show must go on!
More details on the Laseranimation Lasergraph DSP can be found on the Laserworld website:
https://www.laserworld.com/shop/laser-control-software/lasergraph-dsp?___store=en
Example projects realized with Laseranimation Lasergraph DSP:
-
Masters of Hardcore 2015 - Netherlands
-
MAYDAY Dortmund, 2015
,
2014
, … - Germany
-
EDC Las Vegas 2014 - USA
-
Multi Media Show "Attraction" in Bird's Nest - China
-
RAMA VIII Bridge Bangkok - Thailand
- etc.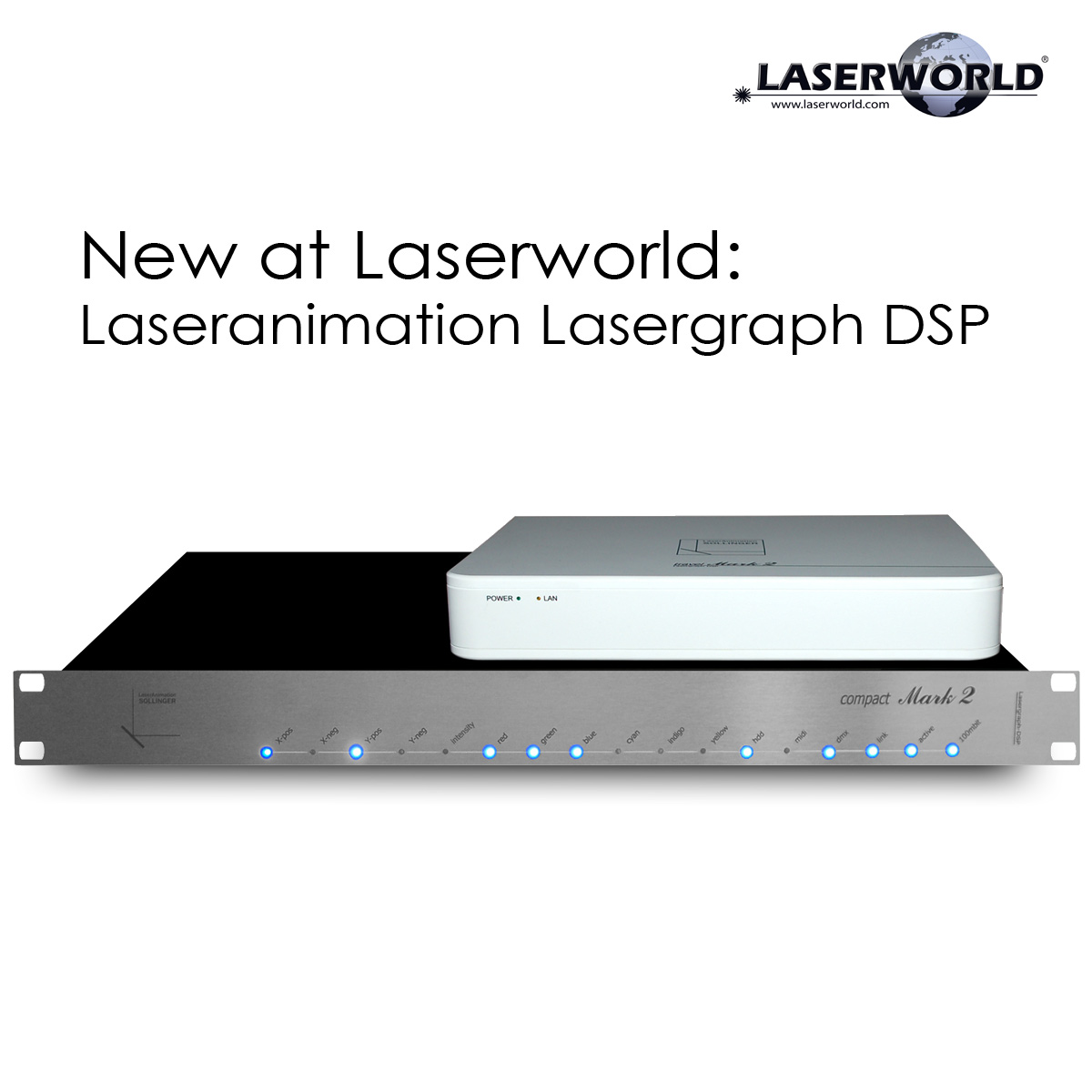 Garden Serie
s
laser light
effects are great outdoor ambient effect lights for indoor and outdoor use. The effects lights are available with green, red and red-green, with a static projection or slowly rotating effect.
The very thin beams are very good visible at night and range over long distance.
The
Garden Serie
s
laser effect
lights are IP67 waterproof, which means that they are temporarily submersible and thus perfect for use in the garden, next to the pond, the pool or the Jacuzzi.
The aluminum housing makes the
Garden Lasers
very durable. The stake, which is included in delivery, is made of aluminum as well and promises the best anchoring in the ground.
More than a garden lighting effect:
The Laserworld
Garden Serie
s lasers are great effects for Halloween as well as for carnival. And of course they are a great Christmas Tree illumination.
The Following Garden Laser models are available:
Laserworld GS-60G
– a green static effect
Laserworld GS-150R
– a red static effect
Laserworld GS-200RG
– a red and green static effect
Laserworld GS-200RG move
– a red and green rotating effect
More details on the Laserworld Garden Series on the manufacturer's website:
https://www.laserworld.com/shop/laserworld-lasers/garden-series?___store=en