komponenten
GmbH and Laserworld (Switzerland) AG, which happened mid of 2014, has been awarded "Deal of the Year for Europe" by Acquisitions International, a magazine specializing in the analysis and evaluation of company mergers and acquisitions worldwide.
Company mergers and acquisitions are quite rare in the show laser light industry, which makes this deal even more special.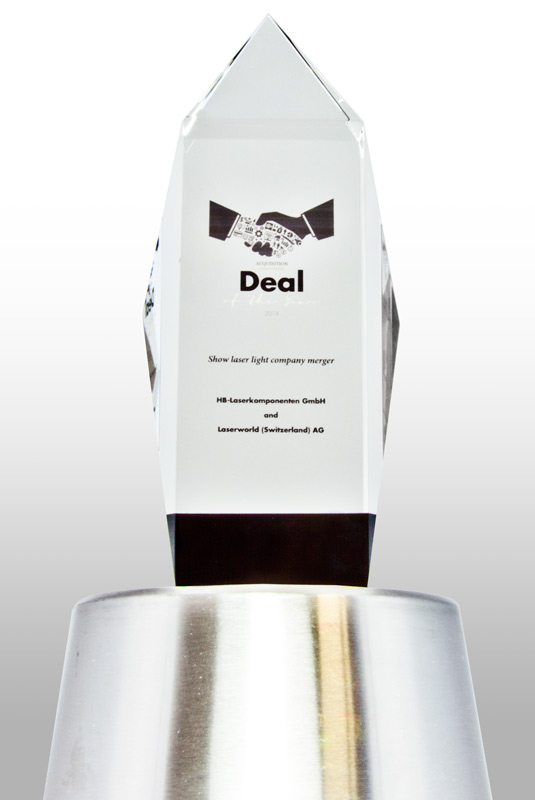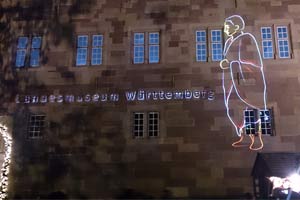 The Laserworld subsidiary HB-Laser created a laser show advertisement for the State Museum in Stuttgart which can be seen since the beginning of December.
The city of Stuttgart is enlightened by one show
laser display
that advertises exhibitions at the wall of the State Museum. An animated roman person walks through a temple complex to advertise the ongoing exhibition "Dream of Rome" about roman city culture in Germany. The fixed installation uses fast moving laser beams to create the images onto the facade of the building.
HB-Laser installed one of their waterproof (submersible!) show
laser lights
on the other side of the street. The LightCube 851 IP 68 show laser suits particularly for such outdoor applications like
laser installations
and
beam shows
. The
laser show
display was created via Pangolin laser control software and can be seen next year, too.
More information about this
laser show
:
https://www.laserworld.com/de/referenzen/outdoor/2004-laserinstallation-in-stuttgart.html
More information about the LightCube 851 show laser:
https://www.laserworld.com/shop/hb-laser/lightcube-851?__store=en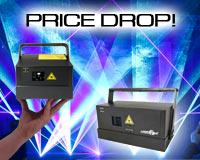 Thanks to a high demand it was possible to reduce the prices for show laser lights of the SwissLas Pure Micro Series significantly. The DS-3300RGB of Laserworld's Diode Series is now offered at more favourable terms, too.
Norbert Stangl, Sales & Marketing Director of Laserworld says: 'Due to a strong demand we were able to lower the average unit costs, hence we could lower our prices. Our customers profit from that fact.' Laserworld's sales staff assumes, that these price reductions will additionally boost the Christmas sales.

The SwissLas Pure Micro Series became a real success since it was launched in 2011 and was steadily supplemented. By comparison, the Laserworld Diode Series is relatively joungish. The Diode Series complements Laserworld's product portfolio since mid of 2014. It seems that these products will be as successful as the Pure Micro Series.

Use this link to find the SwissLas Pure Micro Series

Use this link to find the Laserworld DS-3300RGB