Laserworld EL-500RGB KeyTEX
show laser light. This RGB device is not only a normal laser system including stand-alone mode, sound-to-light mode and DMX, but it also comes with remote control and a keyboard for entering texts and animating these texts or patterns.
Up to now Laserworld already offered a very popular successor of the newly launched show laser. The ES-400RGB had very similar features but the new one offers more features like the text function. The
Laserworld EL-500RGB KeyTEX
is not just a text laser but a full laser system for entertainment purposes without using additional laser software.
It is possible to run the laser in the 'normal' scanner mode or to slide a diffraction grating into the beam outlet to multiply the projection and to cover a much wider angle. The multiplied patterns or texts cover surfaces with a RGB cluster effect.
Especially for mobile DJs, smaller clubs, night clubs or private parties, the Laserworld EL-500RGB KeyTEX is very interesting since it is easy to operate, is capable for projecting tunnel effects, layers and some basic shapes and figures. Most important is the feature to write custom messages and running texts in single or multi colors.
The Laserworld EL-500RGB KeyTEX has a very reasonable price-performance ratio and is available in the Laserworld online shop as well as at many Laserworld distributors.
Use this link to get more information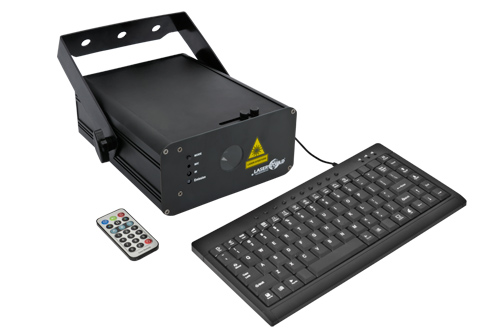 Laserworld Showeditor FREE was presented at prolight+sound 2016 for the first time to the public. It is a completely free ILDA laser show control software, that incorporates the utmost features of the Laserworld Showeditor full version except the direct output to a hardware interface. It can be used for creating logos, text, animations and aerial effects and exporting them to the standard *.ild file format. This file format is compatible to all ILDA standard SD-card playback systems for show laser lights, so the Laserworld Showeditor FREE can be used with SD-card lasers of almost any brand.
The Laserworld Showeditor FREE has all the frame and figure drawing tools that come with the full version. So the tracing of logos (from e.g. bitmap files) is possible as well as the easy creation of running or morphing texts. An abstract generator is included and various tools for special color application to the figures are available.
The Laserworld Showeditor FREE can be downloaded at http://free.showeditor.com
Laser systems with built-in SD-card playback system are e.g. the Laserworld PRO-800RGB and the Laserworld PRO-1600RGB. Laserworld Showeditor FREE creates fully compatible *.ild files for the use with these systems. But the files can be used with most playback laser systems of other brands as well.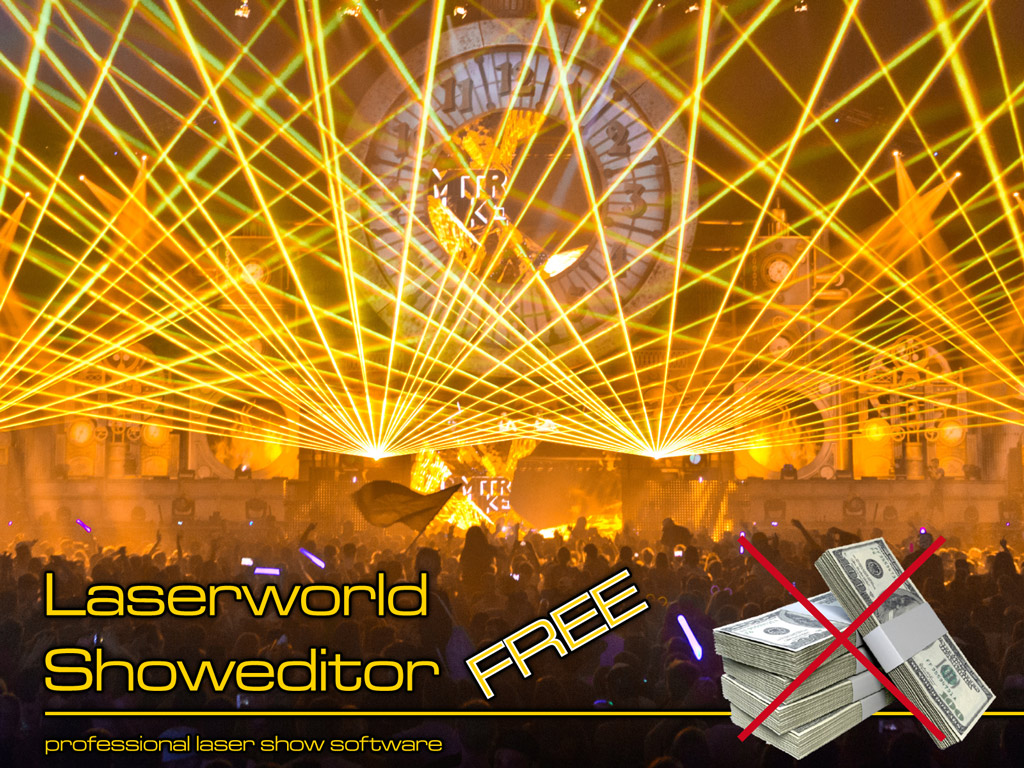 Laserworld presented many new laser products 2016's prolight+sound, amongst others two world-first releases: The RTI NEO SIX RGB beam arrays and the HB-Laser Poseidon 3D-HydroMatrix HD.

The stand concept was completely different to the last years: there was no actual show on display at the booth but a huge bar, surrounding a tall tree in the middle of the stand. Several laser systems of the new tarm Series created ambient laser effects together with a multitude of lasers of the Garden Series and their hundreds of tiny light dots.
But of course the Laserworld Group had a spectacular show on display as well: The PRG Stage in the "Festhalle" was exclusively equipped with laser systems manufactured by the Laserworld Group – more than 400W of laser power. The brand new RTI NEO SIX RGB white light beam arrays with analog modulation and beam positioning debuted there. (more: https://www.laserworld.com/shop/rti-lasers/rti-neo )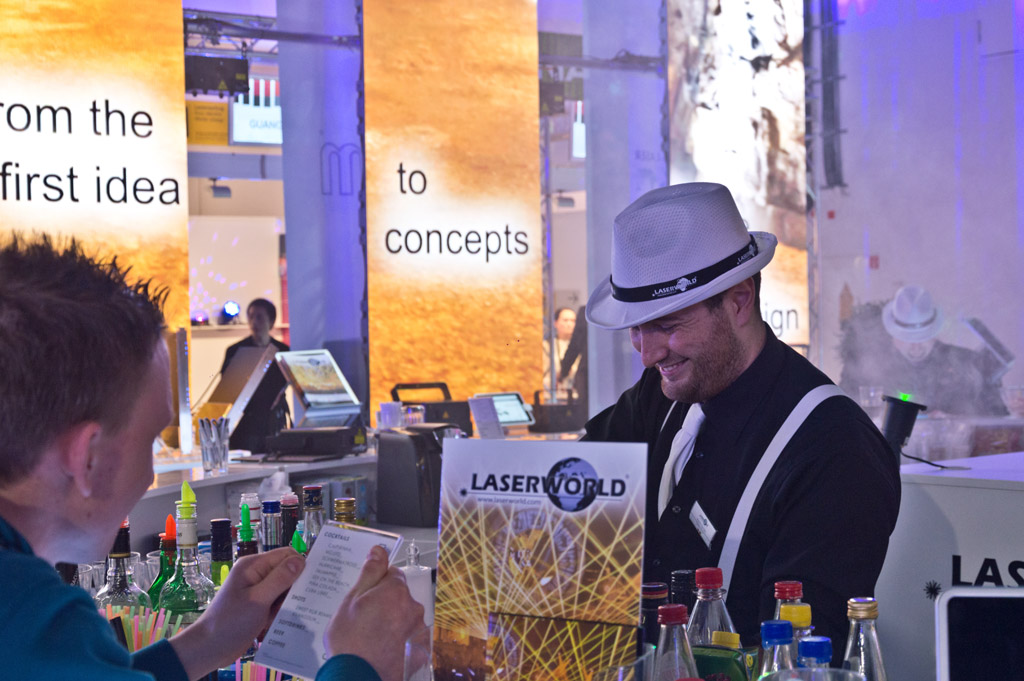 Other new products were the Laserworld Showeditor FREE, a free ILDA laser software, and the new Laserworld Proline Series with the PRO-800RGB and the PRO-1600RGB. These Proline units have an SD-card playback feature, so they perfectly match with the free Showeditor laser software. (more: https://www.laserworld.com/shop/laserworld-lasers/proline-series )
In addition to that, the Laserworld Group welcomed tarm as a new brand on the stand this year for the first time. Tarm debuted well with a brand new product line – the tarm Series – that was designed as successor to the RTI ATTO and RTI FEMTO units – but at a price level below the SwissLas Pure Micro Series. So the tarm Series well fit the price sensitive market and still deliver high quality products. It was presented with three different products in different power ranges: tarm two, tarm four and tarm seven. (more: https://www.laserworld.com/shop/tarm-lasers )
HB-Laser presented a world-first product with their new Poseidon 3D HydroMatrix HD - a water effect with extremely high nozzle density (400 nozzles per sqm) and individually controllable and illuminated nozzles. Patent is pending for this product. (more: https://shop.hb-laser.com/hb-laser-3d-hydromatrix )
RTI enhanced their RTI VELOX to carry even more heavyweight laser systems, like the RTI PIKO, so the VELOX moving yoke can now handle laser systems with up to 20W RGB. Like with the smaller units equipment, the VELOX can infinitely rotate on PAN and TILT.
Several other, smaller products of the Laserworld Group debuted at the 2016 prolight+sound as well. A detailed view on those will follow.