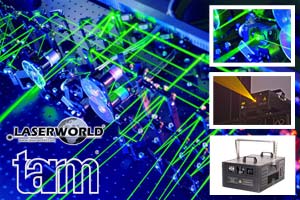 TARM is a well-established brand in the laser industry for more than35 years already. Since January 2016,
TARM laser
technologies is a member of the
Laserworld Group
.
The history of show
laser light
ing is closely linked to the TARM brand: Not forgotten is the era of the famous TARM Center in Bochum, Germany – a nightclub mainly equipped with
laser show
lighting effects – over 25 years back, at a time, when
laser show
technology was far more complex and resource demanding than modern systems.
Richard Krumhus, CEO of
TARM Laser
Technologies tlt GmbH: "Joining the
Laserworld Group
, the largest manufacturer and distribution company of show
laser light
systems worldwide, offers us completely new possibilities in terms of synergies in product development, logistics, marketing and sales. Several development projects have already been initiated."
With TARM becoming a Laserworld company, the market of show
laser light
systems continues its change process. The
Laserworld Group
now can cover the High End market with three brands – RTI, HB-Laser and TARM, the mid-range segment with HB-Laser, TARM and SwissLas and the entry level and semi-pro market with their own Laserworld brand.
"Each Laserworld company has its individual strength in certain product ranges or fields of services. By implementing TARM tlt to the Group, Laserworld gains additional possibilities for satisfying customer demands on an even wider range" says Norbert Stangl, CMO of the Laserworld Group. "More developments are upcoming."
Further Laserworld warehouses are situated at Laserworld USA in Florida, USA and Laserworld ASIA in Shenzhen in China. In addition, there are several big distribution partners all over the world, storing many products manufactured by the
Laserworld Group
. This fact ensures that these products can be shipped to the customers in very short delivery periods.
Laserworld's Service and After Sales Department is also located at the new location next to Munich. Both departments enlarge the European Service Center which was already located in Germany.
The new contact details of the Service Department are provided here:
https://www.laserworld.com/en/support/customer-returns-service.html
Personal visits require prior consent, as there are no direct sales and no show room at the premises.
Laserworld Group
became a member of the International
Laser Display
Association (ILDA).
With effect of this day and the agreement of the ILDA Board , all Laserworld companies may announce being an official ILDA member with effect of the new group membership.
Thus multi-awarded formerly individually listed ILDA member HB-Laser
komponenten
GmbH (HB-Laser) becomes listed as Laserworld Company, but also big industry names
Ray Technologies
GmbH and SwissLas join in. Besides that, the global company network of the
Laserworld Group
announces the ILDA membership for the own Laserworld companies Laserworld (USA) Inc., Laserworld UK Ltd., Laserworld ASIA Co., Ltd, Laserworld KOREA, Laserworld INDIA, Laserworld IBÉRICA – and of course the parental company Laserworld (Switzerland) AG.
"The Show
Laser Light
industry has developed a lot over the past years, and Laserworld is glad to having been a part of this development. We want to participate in further developments and put our knowledge and experience into this, to create mutual benefits for the ILDA and us" says Martin Werner, CEO of Laserworld.