Master of Hardcore
" festival on 28
th
March 2015 in the Brabanthallen in S'Hertogenbosch in the Netherlands and celebrated the 20
th
anniversary.
Under the motto "20 Years of Rebellion" a huge electro-techno-firework was fired up.
Laserfabrik did the
laser show
performance on all stages and decided to go for a massive laser setup of
RTI NANO
,
RTI PIKO
and RTI FEMTO show
laser light
systems.
Special challenges were the timecode synchronized intro-sequences, which were requested by several artists, but it was no problem for the operators to get these special shows going.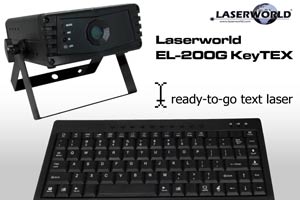 Text projections with lasers required software or an additional controller. With the new EL-200G KeyTEX this becomes history: Laserworld released this direct text show
laser light
system for easy text projections that can be controlled by a keyboard and an IR remote control.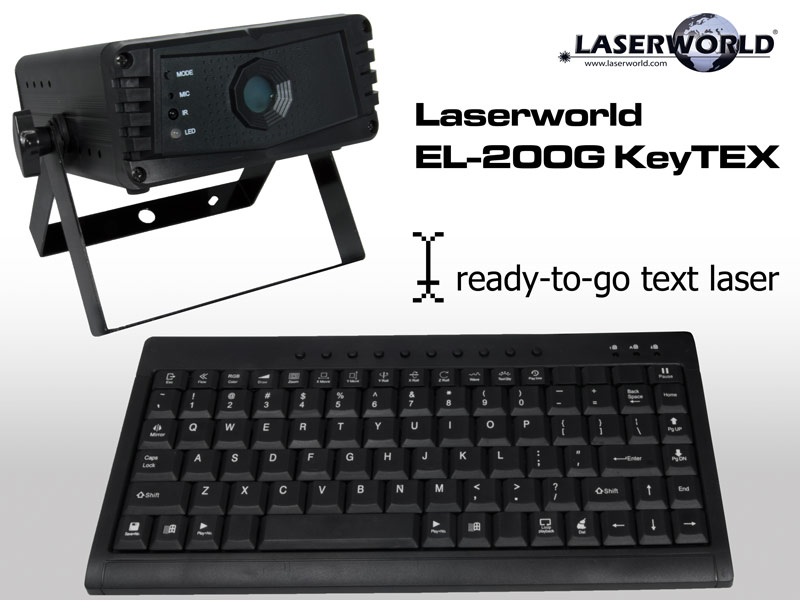 The Laserworld EL-200G KeyTEX is a single color green
laser projector
especially designed for text projections. It can be operated in normal stand-alone mode or sound to light, where it plays preset patterns and animations. But the main operation modes in most cases will be the live text feature and the laser countdown.
The text mode offers the possibilities to either type text live and animate it (scroll, rotate, flip, draw, etc.), or save text to cue keys so they can be played back later – triggered through the keyboard or though the infrared remote control. The EL-200G KeyTEX laser is a great tool for advertising purposes on a smaller scale. Mobile DJs could use this to congratulate the happy couple or birthday boy/girl. Nightclubs could project drinks offers and shout outs, but also restaurants, bars or cafés can use this laser for message projections.
The EL-200G KeyTEX has built-in graphics capable scanners that operate at a speed of ca.
30kpps@4°.
The whole projection is multiplied through a diffraction grating, which has a deflection angle of ca. 90°.
The Laserworld EL-200G KeyTEX laser is available from any Laserworld dealer.
Product information and the product video can be found in our shop:
https://www.laserworld.com/shop/laserworld-el-200g-keytex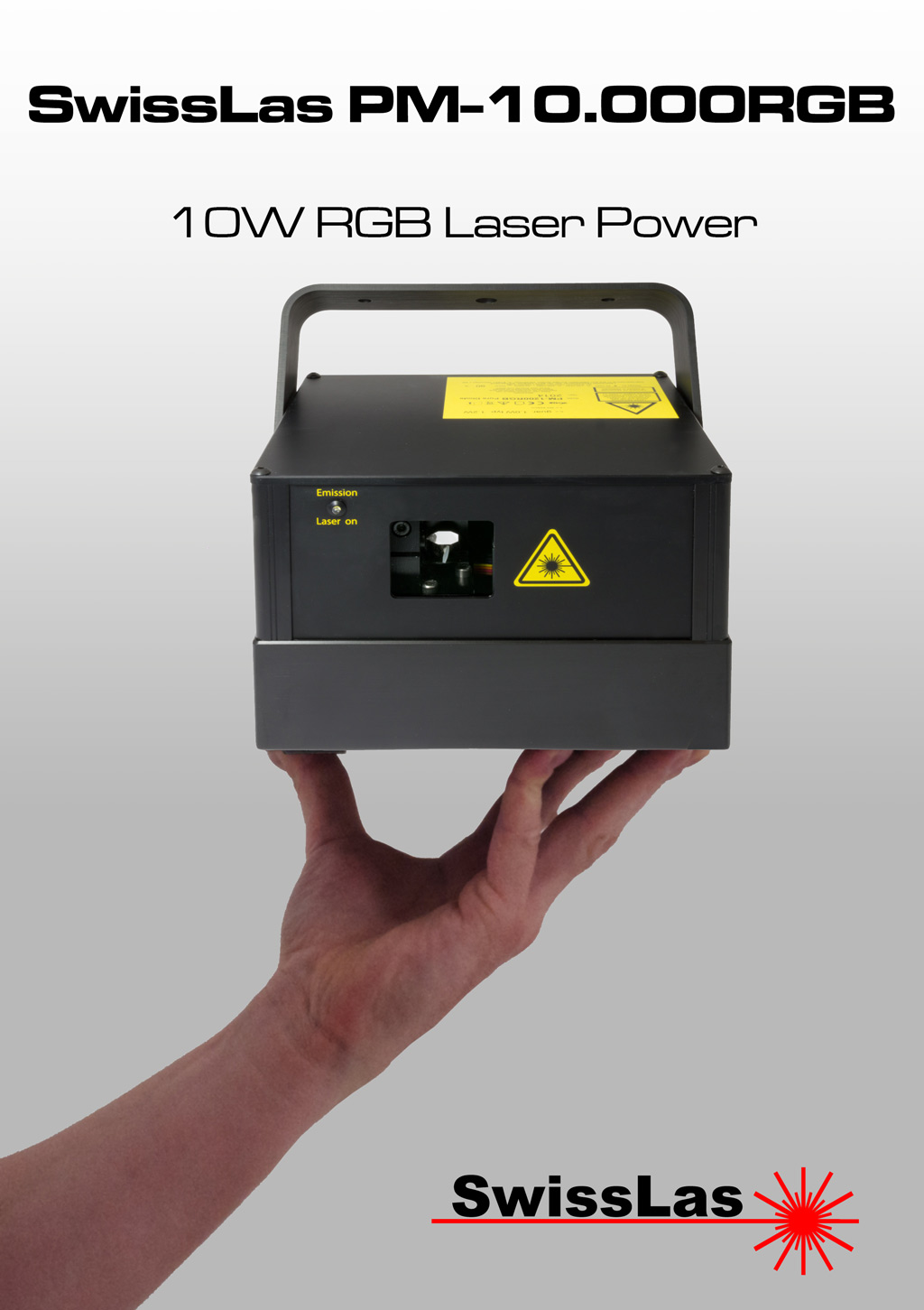 Laserworld presents the new SwissLas PM-10.000
RGB laser
– a 10W RGB
laser show
system in an enclosure.
SwissLas was able to step up the power levels they could build into their compact Pure Micro housing from 5.7W over 8.2W and now to a spectacular 10W RGB white light power. This became possible due to recent developments in laser diode technology and a more compact way in which SwissLas combines the single sources inside the housing.
The
PM-10.000RGB
has a beam diameter of ca. 4mm and an average
divergence
of 1mrad. Due to the professional Pangolin ScannerMax 506 scanner system, it is fully graphics capable. Scanning speeds at >35kpps@8° ILDA.