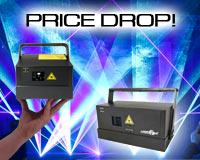 Thanks to a high demand it was possible to reduce the prices for show laser lights of the SwissLas Pure Micro Series significantly. The DS-3300RGB of Laserworld's Diode Series is now offered at more favourable terms, too.
Norbert Stangl, Sales & Marketing Director of Laserworld says: 'Due to a strong demand we were able to lower the average unit costs, hence we could lower our prices. Our customers profit from that fact.' Laserworld's sales staff assumes, that these price reductions will additionally boost the Christmas sales.

The SwissLas Pure Micro Series became a real success since it was launched in 2011 and was steadily supplemented. By comparison, the Laserworld Diode Series is relatively joungish. The Diode Series complements Laserworld's product portfolio since mid of 2014. It seems that these products will be as successful as the Pure Micro Series.

Use this link to find the SwissLas Pure Micro Series

Use this link to find the Laserworld DS-3300RGB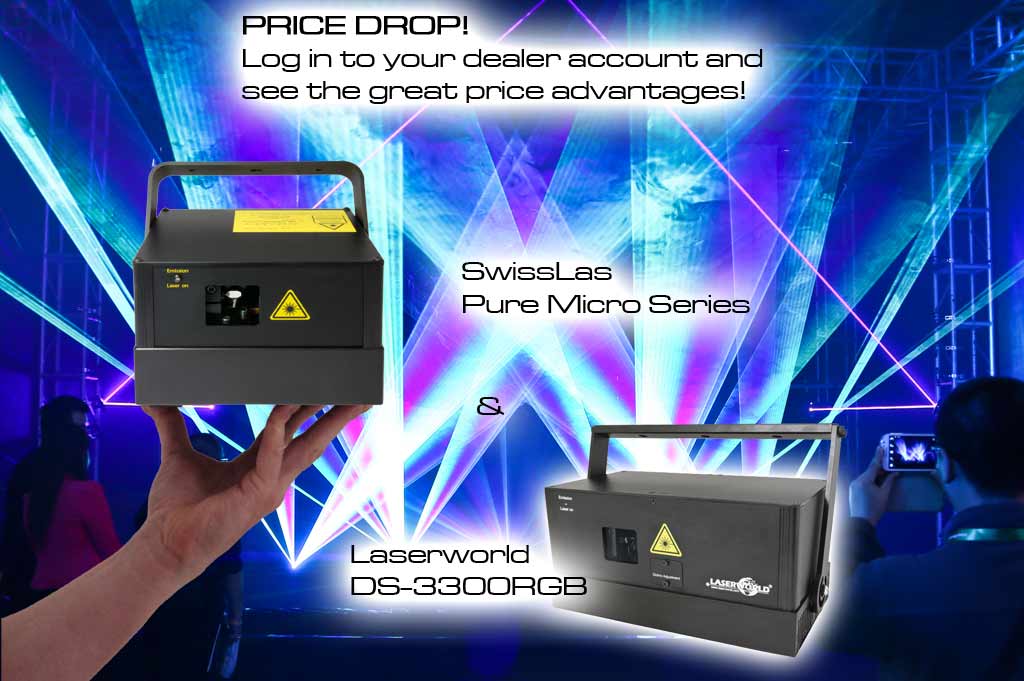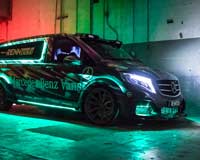 RENNtech's #DJVan wins the Custom Van Competition of Mercedes-Benz at the SEMA show in Las Vegas. The SEMA is one of the most impotant tuning shows in the world.
The #DJVan is based on a Mercedes-Benz V-Class and it was completely tuned and equipped with 2 Laserworld DS-1800RGB of the Diode Series. Furthermore the Van has an own DJ stage which can be extended through the roof of the car and high-end equipment of Pioneer.
RENNtech, situated in Florida, is specialized in automobile performance tuning of luxury cars, especially of the Mercedes-Benz brand.
Our thanks go to RENNtech (
www.renntechmercedes.com
) for providing these pictures.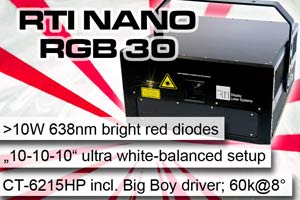 RTI updates their high professional NANO product range and releases the RTI NANO RGB 30 with "10-10-10" equally and ultra white-balanced setup
The new released RTI
NANO RGB 30
show
laser light
systems were especially developed for professional users with high demands that require professional quality without compromise. This new system comes with a "10-10-10" setup, meaning it has nearly an equal power distribution over the color sources: >10W/638nm, >10W/530nm, >10.4W/450nm and a guaranteed power of 28W after aperture providing an awesome white balance with incredibly good beam specifications of only ca. 6mm/<1.0mrad (full angle!). The red spectrum is covered by 638nm bright red diodes only – no dark 658nm diodes are used! As a green color source, a Coherent Taipan OPSL is integrated.
The major challenge was combining the huge number of single red diodes in an array with good beam specifications to be able to use small scanner mirrors for reduced inertia and therefore good scanning results. The new RTI
NANO RGB 30
has such a great beam profile that the laser system can use the CT-6215HP scanners, which are driven by the original CT Big Boy drivers. Thus a scanner performance of 60kpps@8° and a maximum scan angle of 60° is possible – with still having a scan speed of 30kpps @ 60°!
Of course the RTI
NANO RGB 30
comes in the durable NANO housing, which is IP 65 waterproof and comes with the detachable remote control touch pad.
Like all RTI products, the
NANO RGB 30
comes with 2 years warranty.
More details about that product can be found here:
https://www.laserworld.com/shop/rti-lasers/rti-nano-rgb-series/rti-nano-rgb-30-show-laser-light