CS-1000RGB
MKII as follower of the
CS-1000RGB
. The new device has been completely redesigned and the expectations are high, as the
CS-1000RGB
was probably the highest selling RGB show
laser light
product with computer control ever.
"We have high expectations of the new MKII, as the development needed to match performance, quality and price in that product. It should still be the entry-level product for white light RGB and computer controllable show
laser light
systems, but with a modernized housing and improved technology. The price stays in the same range, but the laser system has more power, especially in green color, and improved preset patterns." says Norbert Stangl, CMO of the
Laserworld Group
.
Comparing the CS-1000RGB MKII to the previous model, not only the housing has been changed significantly, but also some important details were improved: The mounting bracket of the new MKII appears to be very rugged. It can be used for upright mounting of the laser on a tripod as well.
The
Laserworld CS-1000RGB
MKII power ranges from 800 – 1000mW, with >200mW/650nm red, >70mW/532nm green and >530mW/445nm blue. The scanning system is graphics capable and suitable for projecting basic logos and texts as well as abstracts. Together with fog or haze in the air the
Laserworld CS-1000RGB
MKII creates awesome beam and wave effects. Liquid sky effects are possible as well as multi colored beam effects - together with software control all kinds of patterns can be created and displayed through the MKII.
The housing itself is smaller than the predecessor, and it's more of a cube shape. Especially small rental companies and mobile DJs will appreciate this fact, as the stowing size is really small, and nightclubs take advantage of the small size as the unit better fits the interior design.
More details about the
Laserworld CS-1000RGB
MKII can be found on the manufacturer's website:
https://www.laserworld.com/shop/laserworld-cs-1000rgb-mkii?___store=en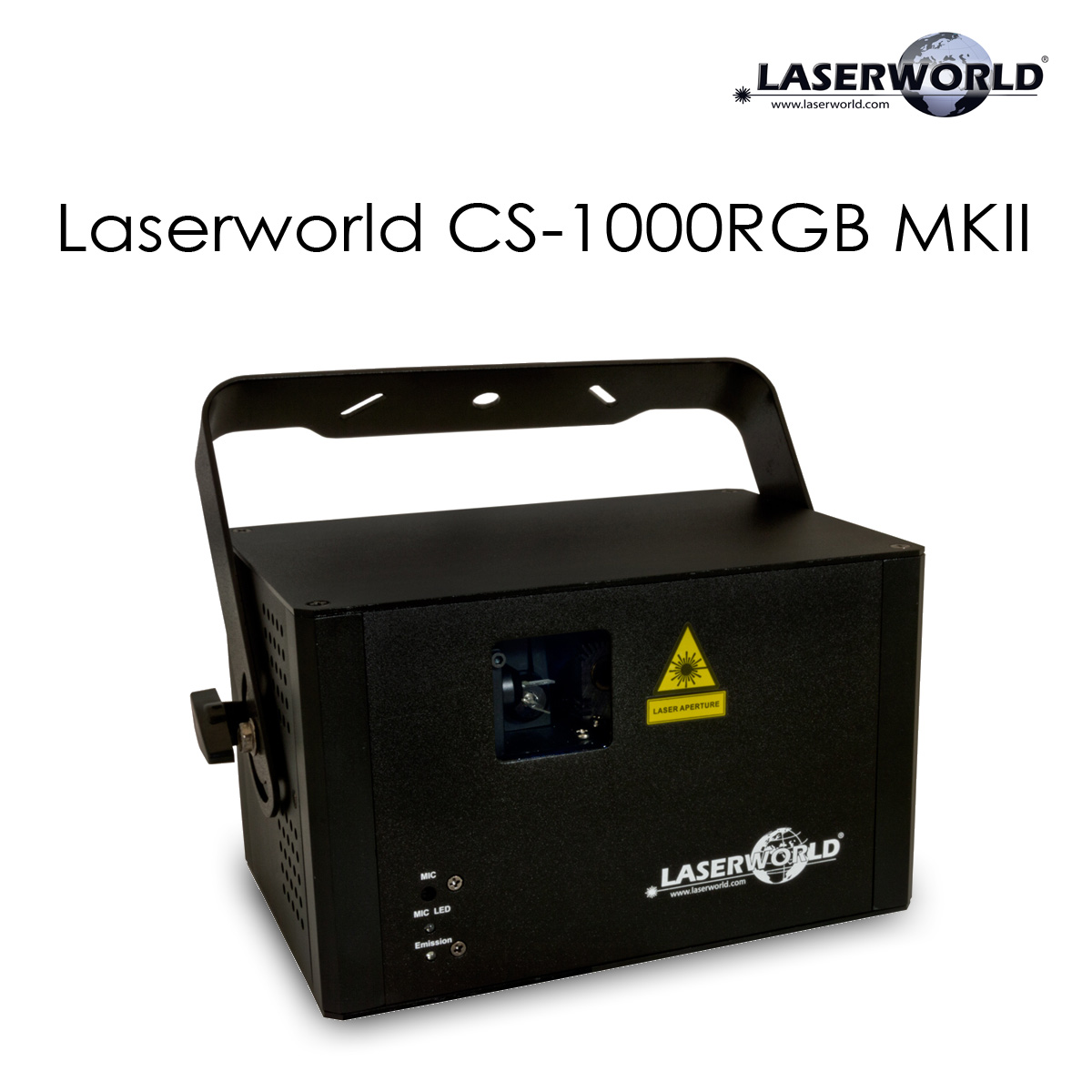 Ray Technologies
developed a new professional and durable aluminium housing for the Flashback 4 (FB-4) so this interface is now usable as external solution.
Ray Technologies
(RTI) manufactures this new interface in Germany at their premises near Munich.
The Pangolin FB-4 is a new interface for certain Pangolin
lasershow software
products, which works as network solution.
It is the follower product of the QM-2000.net and designed for high performance application. Several FB-4 interfaces can be connected with normal network switches.
The RTI FB-4 is available for
Pangolin Quickshow
or for
Pangolin BEYOND
, and it is available in different configurations, each providing additional features: Standard, DMX, IDLA and MAX.
RTI's FB-4 interface can be used with any ILDA compatible
laser show
projector.
The small RTI FB-4 interface box can be placed directly at the laser (it is snap-on compatible to the
RTI PIKO
and
RTI NANO
remote pad attachment slot) and then connected to the ILDA IN port of the laser system with a short ILDA cable (
0.5m short black ILDA cable
available at Laserworld).
To maintain maximum flexibility in the use of show
laser light
systems it is recommended to use an external FB-4 interface rather than building it into the laser itself.
More details on the RTI FB-4 can be found on the Laserworld website (
Ray Technologies
is a Laserworld company):
https://www.laserworld.com/shop/catalogsearch/result?q=fb-4&___store=en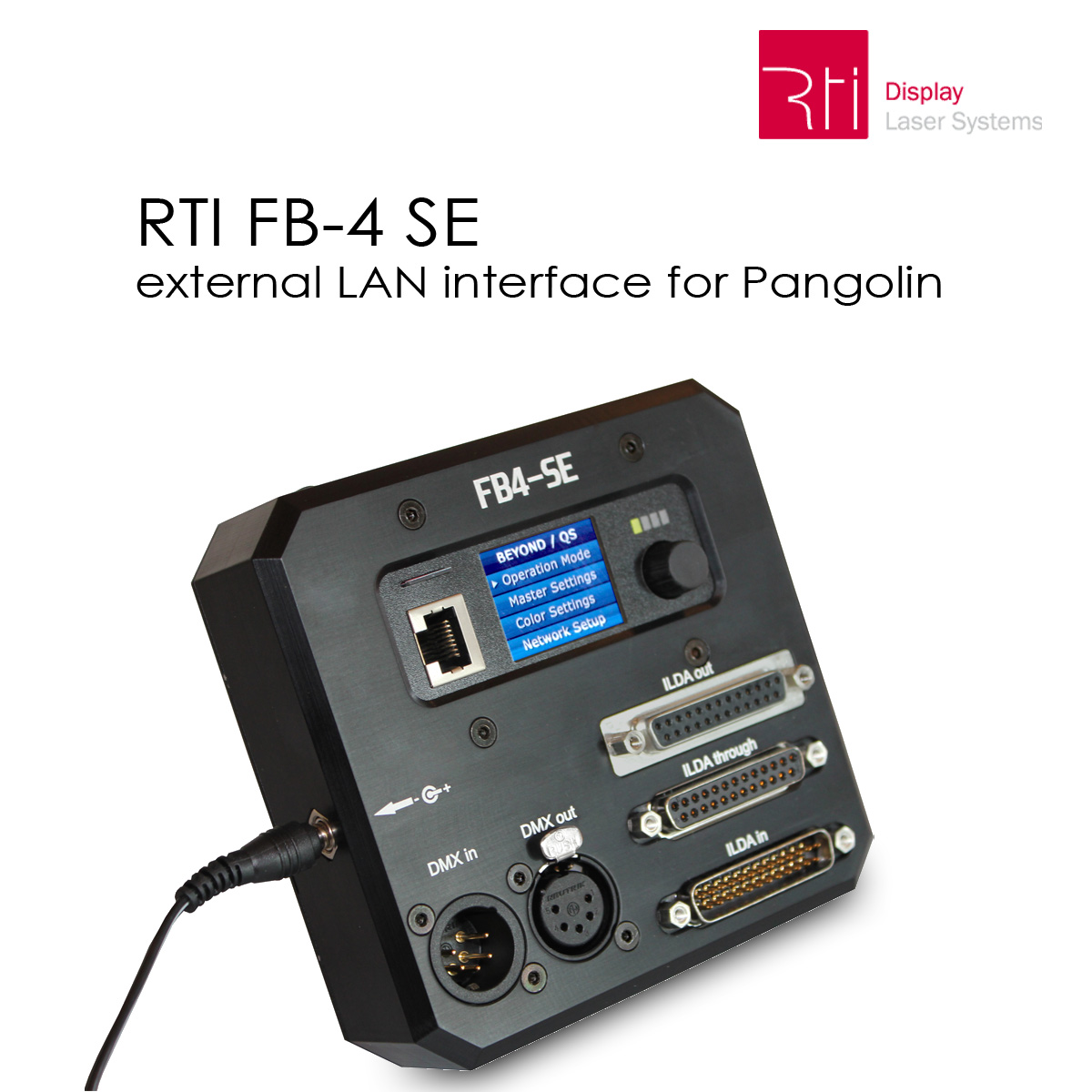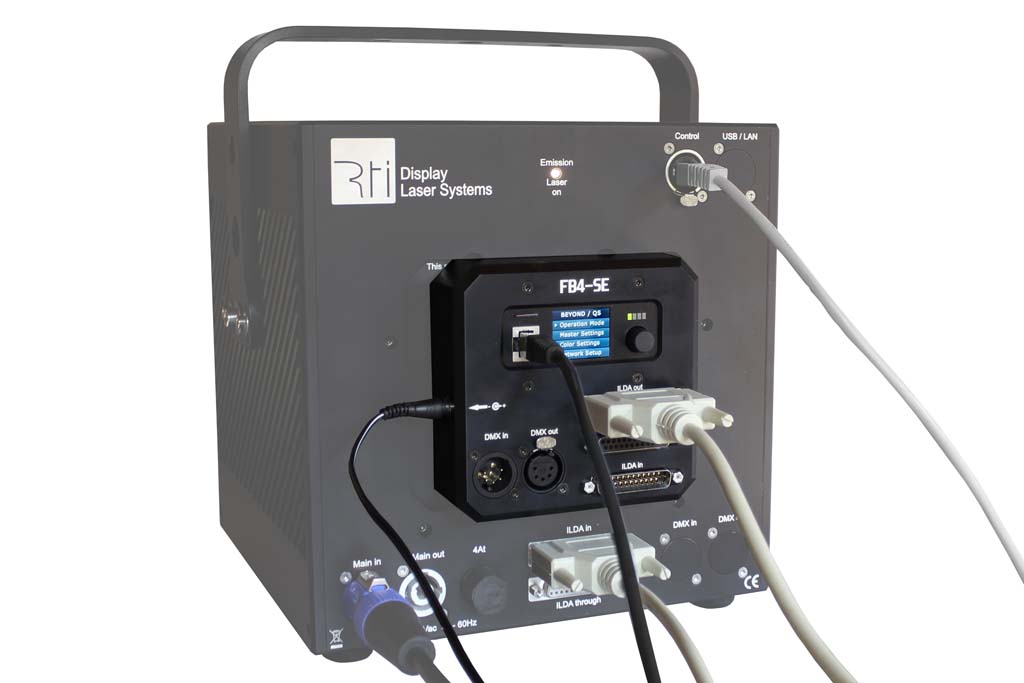 Laserworld Group
. The Indian company is situated in New Dehli / India and was founded just before the PALM exhibition in Mumbai. Managing director is Arun Kalra, who has many years of experience in the entertainment technology industry and furthermore he is well-known in this industry in India.
"As Laserworld offers an impressive product range, I am sure that we meet the large demand of the Indian market."
Laserworld INDIA acts as a sales hub and offers an additional service department for service and repair of show laser systems.
The newly founded company distributes all brands manufactured and/or distributed by the
Laserworld Group
.
Laserworld INDIA launched an own website, providing further information and a product overview (coming soon). Then all products are stated in local currency (Indian Rupees).
Product and price inquiries can be sent to Arun Kalra at arun@laserworld.com.
Or contact Arun by phone: +91 981 104 42 88
http://www.laserworld.in