Laserworld presented many new laser products 2016's prolight+sound, amongst others two world-first releases: The RTI NEO SIX RGB beam arrays and the HB-Laser Poseidon 3D-HydroMatrix HD.

The stand concept was completely different to the last years: there was no actual show on display at the booth but a huge bar, surrounding a tall tree in the middle of the stand. Several laser systems of the new tarm Series created ambient laser effects together with a multitude of lasers of the Garden Series and their hundreds of tiny light dots.
But of course the Laserworld Group had a spectacular show on display as well: The PRG Stage in the "Festhalle" was exclusively equipped with laser systems manufactured by the Laserworld Group – more than 400W of laser power. The brand new RTI NEO SIX RGB white light beam arrays with analog modulation and beam positioning debuted there. (more: https://www.laserworld.com/shop/rti-lasers/rti-neo )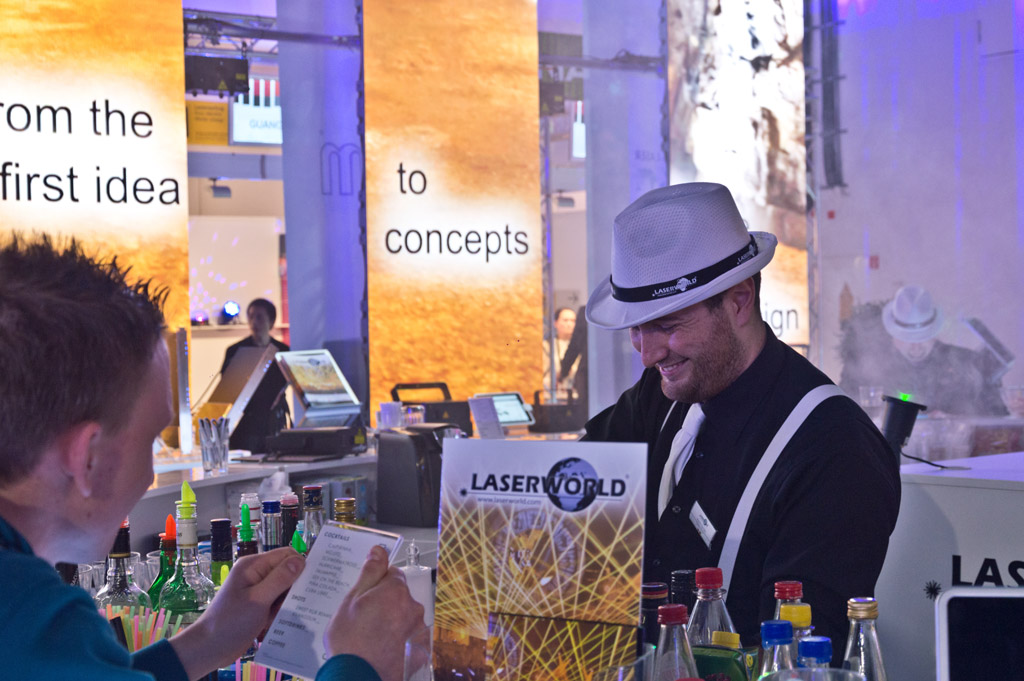 Other new products were the Laserworld Showeditor FREE, a free ILDA laser software, and the new Laserworld Proline Series with the PRO-800RGB and the PRO-1600RGB. These Proline units have an SD-card playback feature, so they perfectly match with the free Showeditor laser software. (more: https://www.laserworld.com/shop/laserworld-lasers/proline-series )
In addition to that, the Laserworld Group welcomed tarm as a new brand on the stand this year for the first time. Tarm debuted well with a brand new product line – the tarm Series – that was designed as successor to the RTI ATTO and RTI FEMTO units – but at a price level below the SwissLas Pure Micro Series. So the tarm Series well fit the price sensitive market and still deliver high quality products. It was presented with three different products in different power ranges: tarm two, tarm four and tarm seven. (more: https://www.laserworld.com/shop/tarm-lasers )
HB-Laser presented a world-first product with their new Poseidon 3D HydroMatrix HD - a water effect with extremely high nozzle density (400 nozzles per sqm) and individually controllable and illuminated nozzles. Patent is pending for this product. (more: https://shop.hb-laser.com/hb-laser-3d-hydromatrix )
RTI enhanced their RTI VELOX to carry even more heavyweight laser systems, like the RTI PIKO, so the VELOX moving yoke can now handle laser systems with up to 20W RGB. Like with the smaller units equipment, the VELOX can infinitely rotate on PAN and TILT.
Several other, smaller products of the Laserworld Group debuted at the 2016 prolight+sound as well. A detailed view on those will follow.
Like the years before, the Production Resource Group (PRG) created their spectacular "Highlight Show" in the Festhalle at prolight+sound 2016. The first show took place at the event of the LEA Awards, where a magnificent laser display increased the performance of the German musical group "Glasperlenspiel". Afterwards, during the exhibition, the highlight show was played every 30 minutes, showcasing the high quality equipment and show creation capabilities of PRG.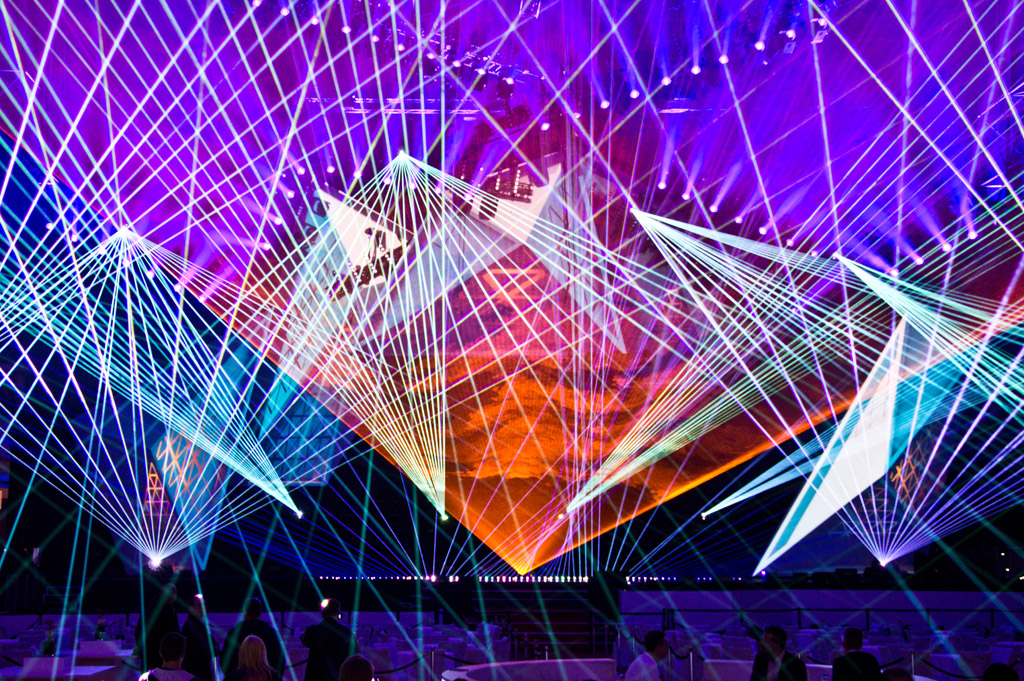 With more than 400W of laser power an extraordinary and exceptional laser show was shown - including the world's first presentation of the RTI NEO SIX RGB white light beam arrays with analog modulation and beamdeflection. This completely new show design lighting fixture allows for creating wave and twist effects in midair with a multitude of single beams that can individually be controlled via standard DMX.

All laser systems on the PRG Stage were manufactured by the Laserworld Group: only RTI and tarm branded laser systems were used. The laser show was controlled through Lasergraph DSP laser control software and hardware, in combination with GrandMA2 consoles. The whole show display was synchronized with a timecode server.
Laserfabrik GmbH, a close partner of the Laserworld Group, designed and implemented the laser show. Jerry P. Appelt, general show production by PRG, designed the whole stage show.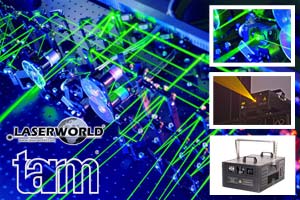 TARM is a well-established brand in the laser industry for more than35 years already. Since January 2016,
TARM laser
technologies is a member of the
Laserworld Group
.
The history of show
laser light
ing is closely linked to the TARM brand: Not forgotten is the era of the famous TARM Center in Bochum, Germany – a nightclub mainly equipped with
laser show
lighting effects – over 25 years back, at a time, when
laser show
technology was far more complex and resource demanding than modern systems.
Richard Krumhus, CEO of
TARM Laser
Technologies tlt GmbH: "Joining the
Laserworld Group
, the largest manufacturer and distribution company of show
laser light
systems worldwide, offers us completely new possibilities in terms of synergies in product development, logistics, marketing and sales. Several development projects have already been initiated."
With TARM becoming a Laserworld company, the market of show
laser light
systems continues its change process. The
Laserworld Group
now can cover the High End market with three brands – RTI, HB-Laser and TARM, the mid-range segment with HB-Laser, TARM and SwissLas and the entry level and semi-pro market with their own Laserworld brand.
"Each Laserworld company has its individual strength in certain product ranges or fields of services. By implementing TARM tlt to the Group, Laserworld gains additional possibilities for satisfying customer demands on an even wider range" says Norbert Stangl, CMO of the Laserworld Group. "More developments are upcoming."