Which Garden Lasers offer a timer function?
Every Garden Laser system that comes with a remote control offers a timer function:
Laserworld GS-60G move, Laserworld GS-200RG move and Laserworld GS-250RGB move


What does the timer function?
With the timer function you can set a power off timer for your Garden Laser.
After 1, 2, 3, 4, 5 or 6 hours the Garden Laser will power off independently, when pressing the respective button.


How can I set / change the power off timer?
For setting a power off timer you just need to press one of the six timer buttons on the bottom of the remote control. The laser projection will blink. As you see in the picture below, there is a botton for 1 hour, 2 hours, 3 hours, 4 hours, 5 hours and for 6 hours.
If you want do delete the current power off timer, you have to press any of the six timer buttons. So be careful, if you press the timer button twice, your desired timer will get deleted and you have to set it again.
That means if you want to change the current timer setting, you have to press any timer button to delete the current setting and then you have to press the button with your desired timer setting.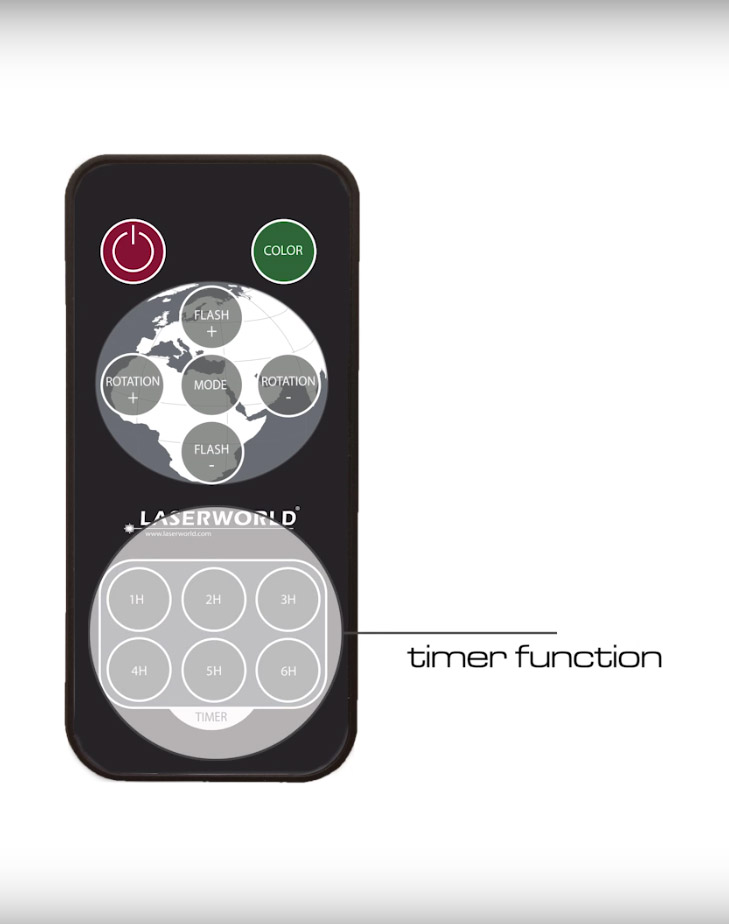 ---
Buy Garden Series show laser systems
Here you can find all Laserworld Garden Series effect laser displays. Click on a particular show laser light to display more information from our shop.