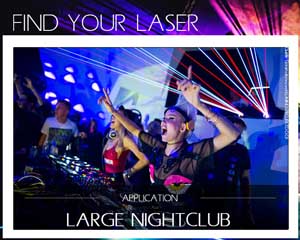 Powerful lasers are THE lighting effect for large scale nightclubs and discotheques: They not only provide ambient illumination, like LED walls, but create emotionalizing effects that integrate the spectators to the light show. Thus lasers are an additional emphasis to the music and a must-have for every nightclub. Lasers can easily cover a large area with their beams and projections, which often makes them a central effect in lighting designs.
However, it is often not easy for nightclub owners or lighting designers to find suitable lasers, as there is a good amount of different systems available.
We created a selection of the lasers we consider most suitable for large scale nightclubs and discotheques below. You can learn more about the very laser with clicking on it. Before deciding on a laser system we recommend to make your mind up about what you want to achieve with the laser. DMX control is often required for nightclubs, but we recommend to not use the built-in DMX feature of the lasers, but remote-control laser software with DMX - this allows for much more versatility and control options. Feel free to ask us for details!
More information about nightclub lasers
Recommended lasers for Large Nightclubs and Discotheques: