What is a Mesh Screen?
A mesh screen is used to display laser graphics, logos, patterns, etc on it. Without any projection surface, fog, haze, etc. laser beams will not become visible.
Mesh screens are made of a thin textile material with many small holes in it - comparable to a fishnet. It is suitable for front projections as well as rear projections.
The term gauze screen is used as a synonym for mesh screen.


Picture of a Mesh Screen (right side)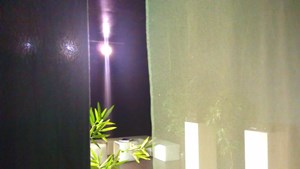 Further information on Laser Screens