What is a Gauze Screen?
The term "gauze" denotes a thin textile material which has got many very small holes similar to a fishnet. A gauze screen is used to project laser graphics, texts, etc. on it in order to make them visible. It is suitable for projections beamed at the forefront of the screen, so called "front projections", but also for projections on its rear side, "rear projections".
The term "mesh screen" is used as a synonym for "gauze screen".


Picture of a Gauze Screen (right side)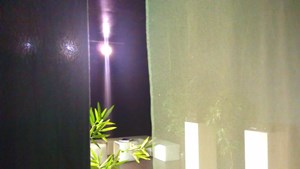 Further information on Laser Screens