The Hunna are one of the UK bands hotly tipped for great things in 2018 – a young stylish looking foot-tapping mix of indie rock, compelling lyrics and great tunes – with their forthcoming album 'Dare' due for release at the end of May.
Lighting designer Tom Campbell of design practice MIRRAD created a cool and dynamic looking visual show for their recent UK tour, for which London based Colour Sound Experiment supplied lighting, rigging and lasers.
He was keen to use lasers in a fresh and invigorating way and specified RTI NEO SIX fixtures, a laser light beam array with 6 single whitelight / RGB diodes, zoom and strobe on each individual diode and pan / tilt functionality.
In this case, as they were in such close proximity to the band, to avoid any accidental audience scanning, the tilt parameter was disabled.
To make this happen, Colour Sound had to compile and complete copious amounts of H & S paperwork, and all the artists had to be thoroughly briefed on the safe zones and where to stand, but the striking end-results definitely justified all the effort!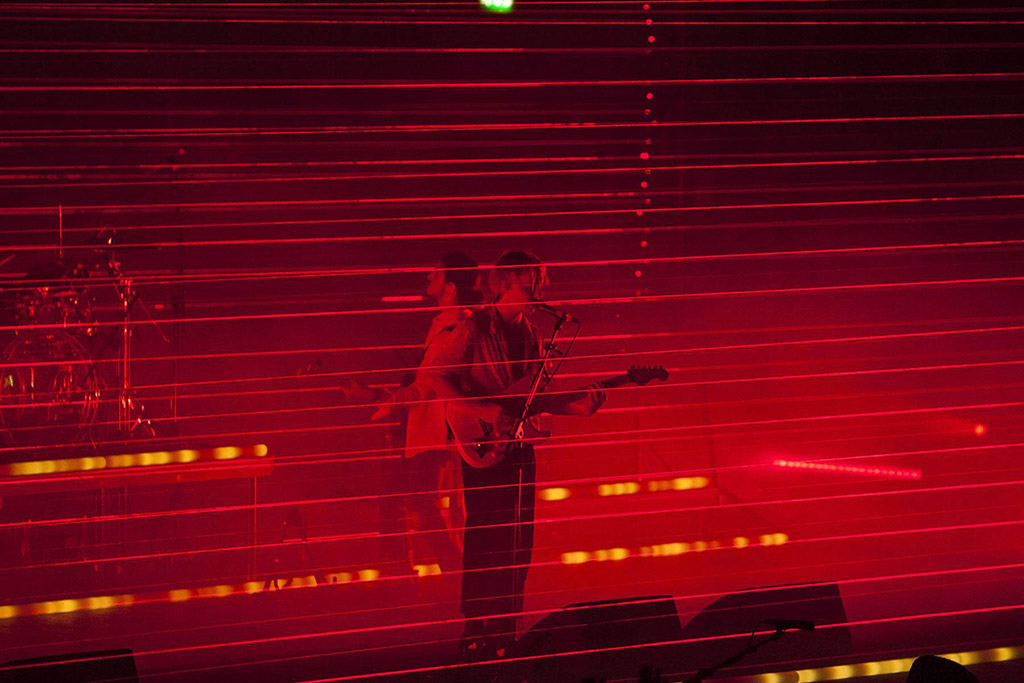 Photo: Lindsay Cave @loosplat
Eighteen NEO SIXs were distributed between six vertical sections of HUD low profile truss stood on the floor – two downstage, two upstage and two mid-stage, each with three NEO SIXs.
The NEO SIX units were staggered in height by 2 inches, so with stage left and right units combined, the beams criss-crossed one diode apart, making 36 beams per pair of trusses with narrower gaps. With a total of 108 laser beams – and LOADS of atmosphere from MDG low foggers and hazers - this worked highly effectively, bringing a new take on creative lasering.
The band were fully aware of how they could / couldn't move during the laser numbers as Tom aimed to dramatically change the shape of the stage and create "abstract worlds" in which they could play" and penetrate the 'cage' with hands or guitars.
Tom had originally used the NEO SIXs on Bullet for My Valentine at the end of 2016 but in a more standard way. He was impressed with the performance and awaited an opportunity to use them in a more imaginative context.
Custom wooden cladding panels were created by Colour Sound and fitted to the back of the HUD truss as an additional safety feature to stop the laser beams spilling into the stage wings.
Additional NEO SIX's supplied by AC Lasers for their Brixton Academy shows.
Find more information on Colour Sound Experiment: https://www.coloursound.com/
Find more information on AC Lasers: http://aclasers.co.uk/