Laser Show References: Architectural Laser
Architecture laser is still a fairly young field of application in the show laser industry. The lasers are used to highlight architectural surfaces (buildings, bridges etc.) and their special features or to draw attention to specific buildings as a landmark, advertising space, etc. For this area of ​​application high-performance equipment is needed which can be used at any weather condition without losses in beam quality. Laserworld offers a wide range of show laser systems that are perfect for that kind of applications. Below are examples of projects carried out by us or together with our partners around the world.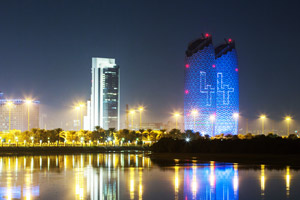 For the 44th national holiday of the United Arab Emirates our partner Laserfabrik did a great Architectural laser show for six days at the Al Bahar Tower in Abu Dhabi.They used six RTI NANO RGB 30 show laser systems and a Lasergraph DSP for controlling the show. Check out the impressive pictures: jsnThemeGridjQuery(function()...
Architectural Laser for Al Bahar Tower Abu Dhabi...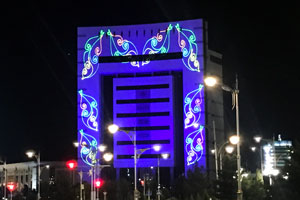 For the 5th Asia Indoor and Martial Arts Games 2017 (also known as Asian Indoor Games), which took place for the first time in the Central Asian Republic of Turkmenistan, our project partner Techmen Pro was commissioned with several laser installations in the capital Aşgabat. For this purpose, Laserworld supplied the customer with 9 x tarm 7 CT, 8 x RTI PIKO RGB 20 CT, 1 x RTI PIKO RGB 22, 6 x...
Architectural Laser at Asian Indoor Games...