Your club event will be legendary! – Because nothing is more impressive than a perfectly staged laser show, which matches your theme.


80ties Party
Bad Taste Party
Techno Party
Halloween Party
House Party
Hiphop Party
Motto Party
Salsa Party
Reggae Party
Club Party
Indoor/Outdoor Party
Indie Party
Goa Party
Electro Party
Bollywood Party
Birthday Party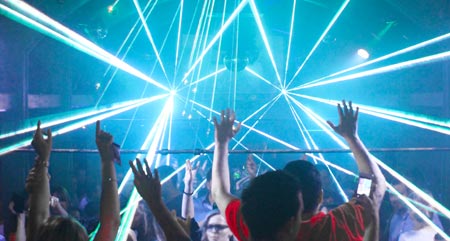 Think about how amusing it would be for your guests if you projected graphics or effects fitting the party's theme. But also a music synchronous beam show will grade up your party.
How about a laser game for your guests? Laserworld's partner HB-Laser offers an interactive video projection system which make it possible to "play games" like soccer and the like. This may be perfect entertainment for every event.
There will be a live DJ? – Our live laser show will be the perfect addition. Laser shows can be matched live to the DJ set. A live laser show enables spontaneous changes, whereas a timeline-based laser show doesn't allow changes after set up. With the use of haze, fire, water, but also pyrotechnics your event will be a breathless dance experience.
Whether at the construction, design or the realization of your laser show, we at Laserworld will be happy to help you and realize your amazing (live) laser show. One famous example for a club laser show was the
company event with Otto Knows in Tägerwilen/Switzerland
.
Please ask for further details:
[email protected]
Find more information: