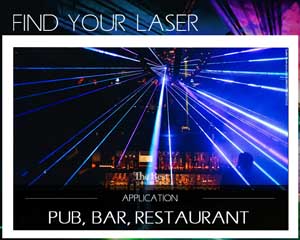 Bars, pubs and restaurants usually only have limited space to install lighting and effects, so if the decision is to go for a laser (which is an excellent decision, by the way), the laser power as well as the control options need to be considered.
The selection of lasers below gives you an idea of which models would be suitable. Click on the very laser to find out more on technical specifications, price and an option for online purchase.
Lasers can be used differently in a gastronomical environment: They can project ambient effects, like the lasers of the Garden Star Series do, or they can do more vivid, beam effects. The more professional lasers with scanners are capable to do both types, plus they can be used to project logos, texts or animations.


Recommended Lasers for the use in Bars, Pubs or Restaurants: