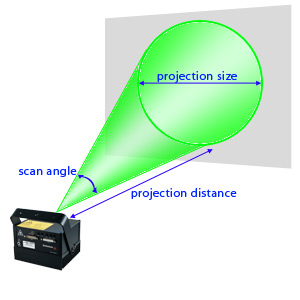 If it comes to laser installations the question of possible scan angles in combination with graphics size and distance arises.


- So how big will the picture be after a certain distance with my laser?
- What scan angle do I need to get a certain picture size after a defined distance?
- What projection distance do I need to choose to create a laser projection in a certain size with predefined scan angle?


This calculation tool makes it easy for you:
Just enter two values and the third one will be calculated. With this it is very easy to determine the right solution. Please remember that you may use whatever unit you want for the lengths, but they must be the same. So both meters, inches, feet etc.. Different units will give wrong results.
What a pity - you need to enter at least two values so we can calculate!
If you need further help in finding the right laser system for your needs, please feel free to ask:
[email protected]