Laserworld FX-700 Hydro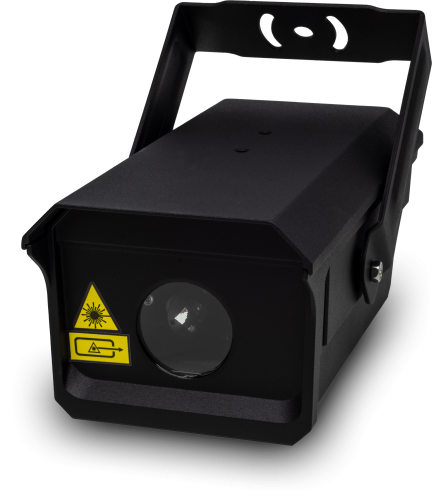 The Laserworld FX-700 Hydro is an RGB whitelight effects laser that is built IP65 waterproof, which makes it perfectly suitable for outdoor use. It projects a multitude of laser dots, different colors including white can be applied, as well as various fade and strobe effects.
Class 3R laser system!
RGB color mixture, including white
Analog color modulation
Stand-alone operation
DMX control
Strobe effects
Fade effects
Class 3R

STAND-ALONE MODE:
The laser operates stand-alone and does not need and control. It plays back the content stored on the laser's mainboard.

DMX MODE:
The laser can be controlled with a standard DMX controller or DMX software.

MASTER-SLAVE MODE:
One laser sends control commands, the other laser follows these. Works with Stand-Alone modes and Sound-to-Light modes.
The Laserworld FX-700 Hydro is a waterproof effects laser that was specifically designed for outdoor use. The strong power of makes the laser dots very well visible, even though the whole unit is rated as class 3R laser system - thanks to the distribution of the overall power to the multiple dots.
It is equipped with analog modulated RGB laser sources that can also create white.
Due to the deflection of the effect the Laserworld FX-700 Hydro can cover a large area. The deflection angle is approximately 60°.
The multi-mirror deflection unit can rotate in both directions and at different speeds, which can either be controlled via the back panel menu or DMX.
The operation mode settings can be adjusted with the control knobs at the back side of the unit, which are also built waterproof.
The whole system is rated waterproof according to the specifications of IP65. The housing of the laser is made of very robust metal. The whole unit is passively cooled, so no fans are required.
The Laserworld FX-700 Hydro has 5m long cables for connecting power and DMX in as well as DMX through. This helps for outdoor installations, as not only the unit itself is waterproof, but can also be mounted in a way that the connections are not exposed to environmental influences.
Perfect for unattended installations, no requirements for e-stop or key switch due to it being class 3R.
> More details
^ Less details