Laserworld EL-300RGB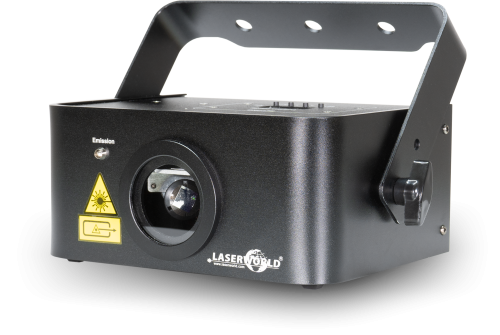 Multi-color and stunning white light star effect laser with plug & play operation and DMX control. This compact unit is an audience scanning safe laser that fills the event with clusters of laser dots bringing the night sky indoors. Perfect for home parties, small bars, and mobile DJ events.
Typical power 240 mW
several hundred colors, including white
Class 2 Audience Scanning Laser for safe projections
High visibility laser beams
Multi-color cluster effect
Digital display to select colors
Stand-alone mode
Sound-to-light mode
DMX programmable
Master-slave operation

STAND-ALONE MODE:
The laser operates stand-alone and does not need and control. It plays back the content stored on the laser's mainboard.

DMX MODE:
The laser can be controlled with a standard DMX controller or DMX software.

MASTER-SLAVE MODE:
One laser sends control commands, the other laser follows these. Works with Stand-Alone modes and Sound-to-Light modes.
The
Laserworld EL-300RGB
is a
multicolor RGB whitelight effect laser system
with color change and controllable rotation and strobe. Despite the
well visible
laser beams with evenly distributed laser power due to special optics, the Laserworld EL-300RGB is a
class 2
laser light and thus much
safer
than comparable laser displays with a higher laser class.
Lots of fine, clearly visible colored laser beams look
like a real starry sky
at walls, ceilings and other surfaces and draw attention at every
party
. The colors of the laser as well as
dim, rotation and strobe
effects can be controlled by
push buttons
or via
DMX
. A
sound-to-light mode
as well as a
stand-alone mode
are available too. For the sound-to-light mode, the sensitivity of the integrated microphone can be adjusted.
The red diode laser module with a wavelength of 638 nm, the green diode laser module with a wavelength of 520 nm and the blue diode laser module with a wavelength of 450 nm ensure beautiful colors and bright beams.
This special effect laser device of the Laserworld Ecoline Series comes with additional safety features like a key switch, an Interlock connector and an on-off switch at the rear side of the device.
The Laserworld EL-300RGB show laser is perfectly suitable for mobile DJs as well as small nightclubs and bars.
> More details
^ Less details