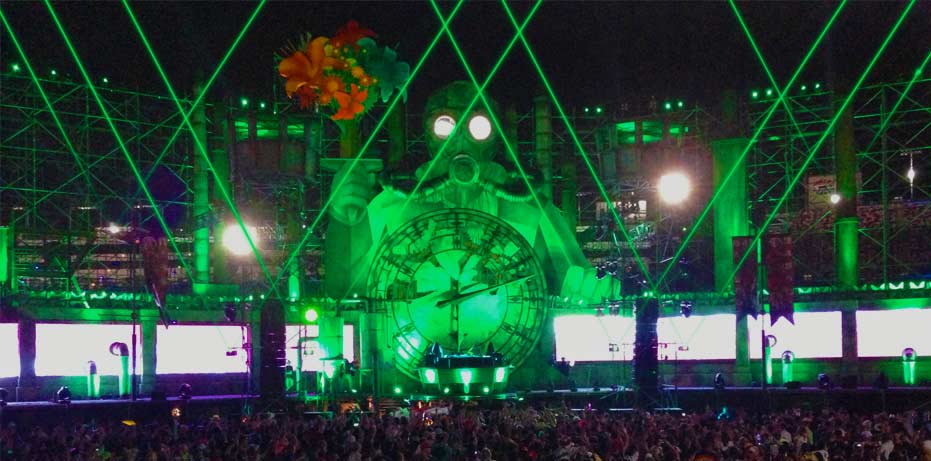 Visual impression is an important point when it comes to festivals, big stage shows, smaller gigs, classical concerts, opera or musicals. Music, instruments and audio engineering create an acoustic experience. Beside that, a stage show should also come up with visual attractions in order to address the audience even more. As an example, a laser show provides the possibility to integrate the spectators directly into the whole show or to make them feel being part of it - for instance through beams projecting from the stage through the crowd, so called "audience scanning". Standing inside the beams may create the feeling of standing live on the stage. Even larger distances between stage and audience are no problem. Thus, laser technology goes beyond conventional lighting technology.
Although it has not been that common so far to use laser shows in musicals or at classical concerts, they are also an alternative for these events (see further information here:
Multimedia Lasershow
). Beams and graphics, displayed synchronously to the music, are able to underline or even intensify its effect.
Laserworld's event and laser show service and the Laserworld partners provide this imposing visual effect - worldwide - as every event benefits from a laser show which is perfectly aligned to the music and its atmosphere. By the use of pyrotechnics, fire, haze and/or water screens it is possible to create an even more enormous WOW-effect.
Our experts are specialized in creating impressive laser or multimedia shows and will implement your show individually according to your demands and also control the transport, set-up and dismantling of the laser equipment, if necessary. Laserworld and its subsidiaries and partners have many years of experience in the creation of laser and multimedia shows for festivals and stages - as our shows at the Street Parade in Zurich, in the Bird's Nest in Beijing or at Cheryl Coles tour "A Million Lights" indicate.
Please ask for further details:
[email protected]