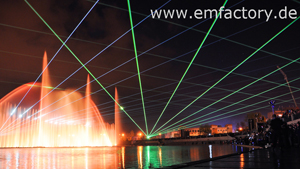 As "Slavic" one defines countries speaking a Slavic language - Russia, Ukraine, Belarus, Poland, Czech Republic, Slovakia, Bulgaria, Slovenia, Croatia, Serbia, Bosnia and Herzegovina, Macedonia and Montenegro. Eastern Europe also comprises the Caucasian countries Georgia, Armenia and parts of Azerbaijan. Hungary, Romania, Moldavian, Lithuania, Latvia and Estonia ethnically do not belong to Eastern Europe, but sometimes are ascribed to it.


Laser Light in Eastern Europe
The Slavic and Eastern Europe markets concerning the show laser branche are different depending on the country. Laserworld and its partner Emotion Media Factory did some splendid lasershows and installations there. An extraordinary project of superlatives surely is one of the largest floating fountain multimedia systems in Europe in Vinnytsa in the Ucraine. After nine months of planning and construction the attraction opened in September 2011. A huge water screen with thousands of nozzles toghether with fascinating water fountains were built up - a tremendous projection screen for laser light shows and video projections. Special laser and multimedia shows with show laser systems of Laserworld were designed for the performances, that take place during the summer months on the weekends and draw thousands of spectators.