RTI Cocoon Climate Housing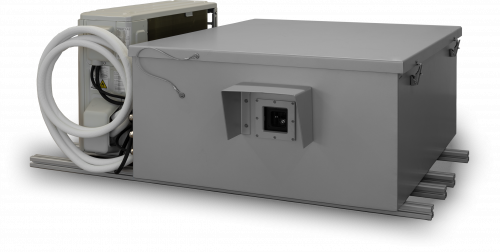 Climate housing for all RTI PIKO & RTI NANO and tarm systems
IP Rating (Main body housing) - IP65
IP Rating (External condenser and compressor unit) - IP54
Cooling power 12,000BTU
Heat Pump 3590W
Operating temperature -15°C to +50°C
RAL color choice available at manufacturing
READ MORE PRODUCT DETAILS

Lasers need to be operated in a certain temperature range for optimal performance and to avoid damages. If laser systems shall be oeprated in areas, wehere the environmental temperature exceeds this operation temperature range, it is necessary to add air conditioning.
The RTI Cocoon Climate Housing is a special protective housing with integrated air conditioning and is designed for the use with different laser systems. It is equipped with a climate control system, that is able to cool as well as to heat the laser system. Thus it ensures a stable operating temperature.

The system consists of two components (as conventional air conditioning units): the actual climate housing and an external condenser/compressor unit. The housing is sealed dust- and waterproof according to IP65, the external condenser and compressor unit is rated IP54. Both parts are connected with a 3m coolant hose. On request, it is also possible to place the condenser unit further from the housing.

With a power consumption of 1,150W and a cooling power of 12,000BTU, the Cocoon is able to pump 3,590W of heat. Operating temperatures range from -15°C to +50°C.
Weight: 55kg.

The RTI Cocoon climate housing must be mounted on a support system (metal plate, concrete base, or similar).
TECHNICAL DETAILS

IP rating

IP65 (main body), IP54 (external compressor and condenser)

Power Supply

230V AC - 50 Hz

Dimensions

120 x 105 x 58 cm (L x W x D)

Download Technical Datasheet

*Due to Advanced Optical Correction technology used in our laser systems the optical power of each colour within installed laser module(s) may slightly differ from the specification of respective laser module(s).