RTI Cocoon Climate Housing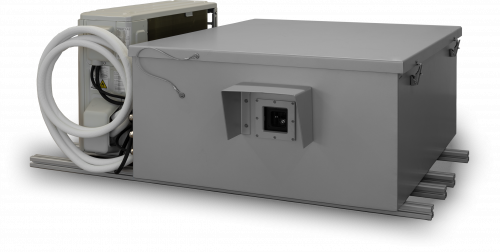 Climate housing for all the current range of RTI PIKO Systems
IP Rating (Main body housing) - IP65
IP Rating (External condenser and compressor unit) - IP54
Cooling power 12,000BTU
Heat Pump 3590W
Operating temperature -15°C to +50°C
RAL color choice available at manufacturing
Lasers need to be operated in a certain temperature range for optimal performance and to avoid damages. If laser systems shall be oeprated in areas, where the environmental temperature exceeds this operation temperature range, it is necessary to add air conditioning.
The RTI Cocoon Climate Housing is a special protective housing with integrated air conditioning and is designed for the use with different laser systems. It is equipped with a climate control system, that is able to cool as well as to heat the laser system. Thus it ensures a stable operating temperature.
The system consists of two components (as conventional air conditioning units): the actual climate housing and an external condenser/compressor unit. The housing is sealed dust- and waterproof according to IP65, the external condenser and compressor unit is rated IP54. Both parts are connected with a 3m coolant hose. On request, it is also possible to place the condenser unit further from the housing.
With a power consumption of 2000W and a cooling power of 12,000BTU, the Cocoon is able to pump 3,590W of heat. Operating temperatures range from -15°C to +50°C.
Weight: 60 kg.
The RTI Cocoon climate housing must be mounted on a support system (metal plate, concrete base, or similar).
Climate housing for all the current range of RTI PIKO Systems:
RTI PIKO 30
RTI PIKO 33
RTI PIKO 36 ROGB
RTI PIKO 38 ROGB
RTI PIKO 40
RTI PIKO 40 RYGB
RTI PIKO 42 RYGB
RTI PIKO 55
RTI PIKO 70
RTI PIKO 40 G
RTI PIKO 44 G
RTI PIKO 36 OPSL
*EXCLUDES RTI NANO 100, 120, 140 Models
*A custom cocoon housing for older RTI PIKO, NANO models & tarm lasers available upon request
*Please consult Laserworld for older model suitability
> More details
^ Less details