Laserworld SAFETY Unit, Laser E-Stop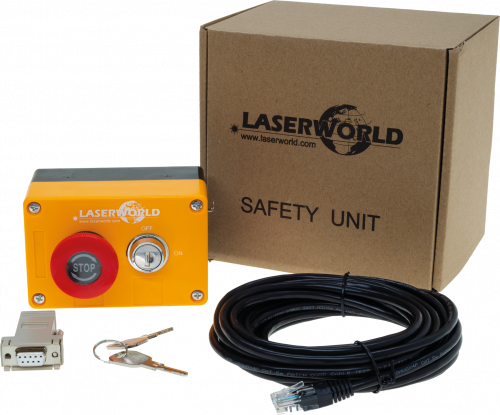 Laser safety box with button & key. E-Stop
E-Stop button
Key-Switch
Adapter for RJ45 <> DB9/RS232
Compatible to all latest Laserworld, tarm and RTI laser systems.
Unit to shut off laser projectors by using the interlock connection interface.
This Safety Unit can be connected to the RJ45/RS-232 interlock interface of a laser projector. Built-in key switch, without emission LED. Including 5m interlock connection cable. All Safety Units have RJ45 to DB9/RS232 adapters included to suit our latest ranges of lasers with RJ45/Ethercon interlocks as well as the traditional DB9/RS232 interlocks.
> More details
^ Less details