Laserworld E-Stop Distributor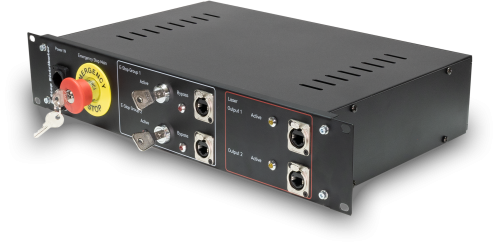 E-Stop distribution panel with integrated E-Stop button with key switch and the option to add two more E-Stop signals. The E-Stop signal is routed to two signal strings that can be linked to lasers.
Integrated E-Stop with Key
19" rack mount
Two connection ports for additional E-Stop buttons, sensors, etc.
Two E-Stop connections for laser interlock strings
This E-Stop Distribution system allows for the distribution of signals from up to 3 E-Stop inputs to two strings of lasers using the interlock signal. Several of this E-Stop distribution boxes can be linked together to extend the range or the number of connectible strings of lasers.
Detailed explanation:
As the interlock signal of laser systems is not protocollizesd, it cannot the linked via a switch or similar, but always needs to be wired directly to the E-Stop. With this distribution system, the signal can be handled and distributed. Several laser interlock signals can be daisy chained, so it is already possible to connect several lasers to one E-Stop in one string. However, depending on the cable length and the number of lasers connected together, the distance between the E-Stop and the lasers is limited. With using the E-Stop distributor it is possible to extend the range between the E-Stop(s) and the lasers and also connect several E-Stops to switch off all lasers at once.
> More details
^ Less details