Laser Show References: Multimedia Projects
Multimedia projects are entertainment events or installations where several forms of media, such as show lasers, audio, video, lights etc. are included.
Besides show laser systems, multimedia shows can be combinations of video projections, fire, pyrotechnics, light, fog, haze, water fountains, water screens, and/or hydro shields ect. The combination of media for multimedia projects is depending on customers preferences.
Multimedia shows and installations are important parts of modern show projects and our partners rely on our products as they stand for high power, quality and excellent technical specifications.
Due to our long-term experience with multimedia projects Laserworld is able to advice on the most suitable show laser systems or to develop individual show laser solutions for impressive multimedia shows.
Together with our partners we provide concepts and take care of unique and emotional multimedia
laser shows
as shown in the following examples.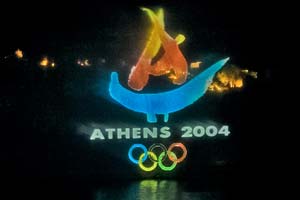 Our partner HB-Laser did several fixed laser show installation in Greece for the event of the Olympic Games in 2004. two installations were done for the five star Hotels Grand Resort Lagonissy Greece and Elounda Beach in Crete. Besides that, a huge hydroshield for displaying TV-programs of the Olympic Games on the open sea was supplied - it was the largest TV projection in the open sea...
Multi Media Project @ Crete and Greece for the...