Laserworld E-Stop Distributor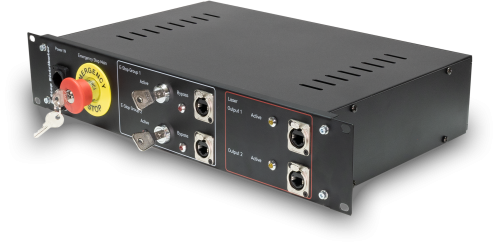 E-Stop distribution panel with integrated E-Stop button with key switch and the option to add two more E-Stop signals. The E-Stop signal is routed to two signal strings that can be linked to lasers.
Integrated E-Stop with Key
19" rack mount
Two connection ports for additional E-Stop buttons, sensors, etc.
Two E-Stop connections for laser interlock strings
READ MORE PRODUCT DETAILS

This E-Stop Distribution system allows for the distribution of signals from up to 3 E-Stop inputs to two strings of lasers using the interlock signal. Several of this E-Stop distribution boxes can be linked together to extend the range or the number of connectible strings of lasers.

Detailed explanation:
As the interlock signal of laser systems is not protocollizesd, it cannot the linked via a switch or similar, but always needs to be wired directly to the E-Stop. With this distribution system, the signal can be handled and distributed. Several laser interlock signals can be daisy chained, so it is already possible to connect several lasers to one E-Stop in one string. However, depending on the cable length and the number of lasers connected together, the distance between the E-Stop and the lasers is limited. With using the E-Stop distributor it is possible to extend the range between the E-Stop(s) and the lasers and also connect several E-Stops to switch off all lasers at once.
TECHNICAL DETAILS

Power Supply

85 V - 250 V / AC, 50/60 Hz

Dimensions

48 x 8.8 x 30 cm (W/H/D)

Download Technical Datasheet

*Due to Advanced Optical Correction technology used in our laser systems the optical power of each colour within installed laser module(s) may slightly differ from the specification of respective laser module(s). Divergence FWHM average depending on model.