tarm 11G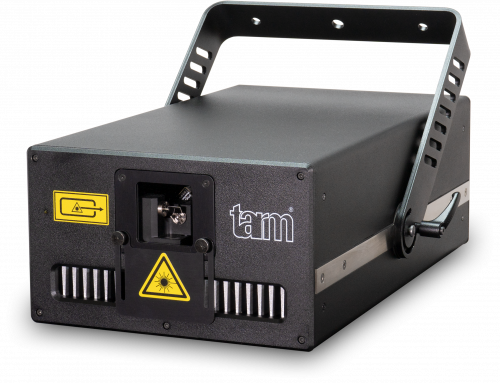 The powerful single green tarm 11G is suitable for indoor and outdoor show laser applications at concerts, festivals and other large scale events. It is also perfect for sky laser and landmark laser applications.
Demanding graphics projections or projections over long distances are no problem for this impressive unit due to the extremely good divergence. Green is pretty much the most visible laser color, so a single high power green unit is the most cost effective way to have a highly visible beam.
IP54 waterproof laser system, suitable for outdoor use.
Including waterproof flightcase
11'000 mW guaranteed power
for long distance beams and projections at <0.8 mrad
High precision RSL Semiconductor modules for homogenous beam profile and equal divergence of <0.8 mrad on the x and the y axis
IP54 waterproof housing
Complex graphics capable - 45kpps @ 8° ILDA scanners – upgradable to 60kpps
Integrated powerful mainboard with advanced configuration features (geo-correction, zone setup, color balancing, etc.) and DAC feature
Integrated network switch for linking control signal
Control screen for convenient mode selection
Rugged tour grade compact housing
incl. waterproof flightcase
ShowNET mainboard
as standard:
Various control options: ILDA, Professional DMX and ArtNET (two modes), LAN (computer control, integrated DAC), Stand-Alone Operation, ILDA Streaming Receiver, Master-Slave
Create custom content, store it inside the laser and play it back in different modes
Free laser show control software included

STAND-ALONE MODE:
The laser operates stand-alone and does not need and control. It plays back the content stored on the laser's mainboard.

DMX MODE:
The laser can be controlled with a standard DMX controller or DMX software.

ArtNET Control mode

MASTER-SLAVE MODE:
One laser sends control commands, the other laser follows these. Works with Stand-Alone modes and Sound-to-Light modes.

LAN MODE:
The laser can be controlled over LAN - this can be either direct software control, or ArtNET or similar (depending on the main board)

ILDA MODE:
The laser can be controlled over standard ILDA, the analog control signal for laser control. External Digital-Analog-Converters (DACs) can be used.

ILDA Streaming

SHOWNET INSIDE:
The laser is equipped with the advanced ShowNET laser mainboard which brings a multitude of features to the laser and makes it an intelligent lighting device.

SHOWEDITOR INCLUDED:
The full version of the laser show control software Showeditor is included in delivery.
READ MORE PRODUCT DETAILS