RTI PIKO 36G OPSL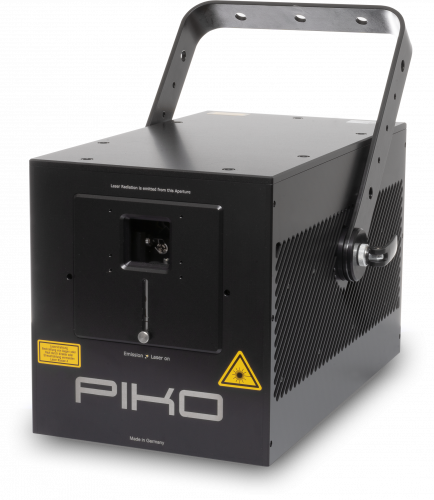 The powerful but compact RTI PIKO 36G OPSL is suitable for outdoor laser show applications at concerts, festivals, and other huge events with easy operation due to the built-in software and DMX control. The RTI PIKO 36G OPSL is equipped with the latest green Coherent Taipan OPSL modules making it an amazing laser for beam shows and demanding graphic projections such as laser mapping or projections over long distances. The high-end performance is part of the PIKO's DNA and makes this possible due to the great performance of the Coherent Taipan OPSL modules.
Incl. waterproof flightcase
36 W guaranteed power
Coherent Taipan OPSL green
Maintenance free laser system
Complex graphics capable - 45 kpps@8° ILDA scanners – upgradable to 60kpps
Extremely sharp intense beams - low divergence
Multi-control mainboard for DMX, ArtNET, LAN, ILDA, ILDA streaming and stand-alone operation
Digital display for easy mode selection
Integrated network switch for linking the control signal
FB4-QS MAX optional integration
Rugged tour-grade compact housing
Laser Artists' choice
Lighting Designers' choice
Incl. waterproof flightcase
ShowNET mainboard
as standard:
Various control options: ILDA, Professional DMX and ArtNET (two modes), LAN (computer control, integrated DAC), Stand-Alone Operation, ILDA Streaming Receiver, Master-Slave
Create custom content, store it inside the laser and play it back in different modes
Free laser show control software included

STAND-ALONE MODE:
The laser operates stand-alone and does not need and control. It plays back the content stored on the laser's mainboard.

DMX MODE:
The laser can be controlled with a standard DMX controller or DMX software.

ArtNET Control mode

MASTER-SLAVE MODE:
One laser sends control commands, the other laser follows these. Works with Stand-Alone modes and Sound-to-Light modes.

LAN MODE:
The laser can be controlled over LAN - this can be either direct software control, or ArtNET or similar (depending on the main board)

ILDA MODE:
The laser can be controlled over standard ILDA, the analog control signal for laser control. External Digital-Analog-Converters (DACs) can be used.

ILDA Streaming

SHOWNET INSIDE:
The laser is equipped with the advanced ShowNET laser mainboard which brings a multitude of features to the laser and makes it an intelligent lighting device.

SHOWEDITOR INCLUDED:
The full version of the laser show control software Showeditor is included in delivery.
READ MORE PRODUCT DETAILS

Built with the green Coherent Taipan OPSL modules!

The RTI PIKO 36G OPSL is made in Germany and is a compact show laser system in a rugged, dust-proof housing that is ideally suited for top professional laser show applications of any kind.

The beam specifications of the new RTI PIKO 36G OPSL are given with only ca. 5.0 mm diameter and 0.8 mrad divergence. The extremely small beam diameter allows for the use of very small mirrors, which results in reduced inertia and thus very good scanning performance.

KEY FEATURES

36 W total power in a small housing of only 271 x 491 x 296 mm
super small spot of ca. 5.0 mm for reduced inertia and thus fast scanning
extremely low divergence of less than 0.8 mrad
Integrated network switch for linking the control signal

Compact form factor
extremely lightweight unit with only 28 kg
Bright 530 nm OPSL green for increased visibility
Laser modules do not come out of internal alignment
Maintenance free laser modules
Interlock / e-stop signal can be daisy-chained
High quality product, made in Germany
Great scanning performance suitable for projections as well as for beams

The RTI PIKO 36G OPSL impresses with a guaranteed output power of 36'000 mW. Great visibility is achieved with the Coherent OPSL Taipan: The 4x 10'000 mW / 530 nm Coherent Taipan OPSL green provides a warmer green tone than the 520 nm diodes and has increased visibility.
These OPSL modules with their extremely low divergence make the RTI PIKO 36G OPSL a top professional laser system. The extremely small beam diameter of only ca. 5.0 mm allows for the use of small scanner mirrors which leads to reduced inertia and higher scan speeds. This is especially important, as the RTI PIKO 36G OPSL can be used for any kind of laser show application: Super sharp beams and vivid green color for large scale concerts and festivals but also a perfectly matched beam for crisp graphics.

The standard scanners can be run at a maximum of 45 kpps@8° ILDA and a maximum scan angle of 50°. CT-6210 scanners with LAS Turboscan drivers are available as option and provide even higher scan speeds with up to

60kpps at ILDA 8°

.

The housing is built very durable and ideal for use on the road. It has an interlock / e-stop through port, which allows for daisy-chaining the interlock signal, which means that only one e-stop is required for several laser systems. Due to the dustproof housing, the maintenance effort is very low and the device is also suitable for tough touring applications.

The powerful RTI PIKO 36G OPSL is suitable for indoor and outdoor show laser applications at concerts, festivals and other huge events. Demanding graphics projections or projections over long distances are possible without any problems, due to the extremely good divergence.

INCLUDING SHOWNET LASER MAINBOARD

The RTI PIKO 36G OPSL is delivered with a ShowNET laser mainboard as standard. This means it has a multitude of control features already built-in: Control via DMX or ArtNET, just like a normal lighting fixture, are possible as well as computer control via ILDA or LAN. Of course the laser can be run in stand alone operation, too. The contents for playback (for DMX, ArtNet, Stand-Alone, etc.) can be fully customized. As the ShowNET laser mainboard comes with a full license of the Showeditor software, it is easy to create custom content for the built-in memory or even directly control the laser with a computer - either live or for creation an playback of complete laser shows.

If ILDA shall be used as control option, like from an external Lasergraph DSP, the internal ShowNET mainboard can also be used as receiver for an ILDA streaming signal - so the externbal ILDA signal can be feeded to an external ShowNET device and this sends the direct control to the RTI PIKO 36G OPSL via ILDA Streaming - so no long ILDA cables are required any more, even with ILDA based control systems.
SEE DETAIL PICTURES
TECHNICAL DETAILS

Guaranteed Power at aperture

36'000 mW

Power Green

4x 10'000 mW / 530 nm

Beam Specifications*

ca. 5.0 mm / 0.8 mrad

Scanner

45 kpps@8° ILDA; optional CT-6210 with LAS Turboscan: 60 kpps@8° ILDA, max. 60°

Laser Source

Coherent Taipan OPSL

Operation Modes

ILDA, LAN (Software), DMX, ArtNET, ILDA-Streaming, Stand-Alone; (integrated intelligent ShowNET laser mainboard with display)

Basic Patterns

over 120 (layers, tunnels, fences, waves, etc.)

Accessories

Incl. waterproof flightcase, interlock connector, key, power cable, manual,; full version Showeditor software license included

Power Supply

85-250 V AC 50/60 Hz

Dimensions

271 x 491 x 296 mm

Download Technical Datasheet

*Due to Advanced Optical Correction technology used in our laser systems the optical power of each colour within installed laser module(s) may slightly differ from the specification of respective laser module(s). Divergence FWHM average depending on model.