Laser Show References: Outdoor Laser Show
Outdoor laser shows became more and more popular in the past years, as the laser show projectors became much stronger and more affordable at the same time. Where an outdoor laser show was quite limited at the times of gas laser systems due to the massive amount of water that was needed for cooling and the extreme power consumption, the modern laser show systems consume only very few power, so they can be run on a normal 10A/16A fuse. Outdoor laser shows can be seen at different occasions: Nearly every big electronic music festival uses lasers to cover the whole festival area, but also festivals of other music genres use outdoor laser shows to emotionally integrate the audience into the scenery. Even metal festivals are looking to use lasers more for their shows, as the huge advantage of the laser technology is their enormous reach of the beams of up to 30km and even further. So even the biggest festival area can be covered.
Besides the use at festivals, an outdoor laser show can also be a sky laser (also named "Landmark laser" in some areas of the world) application, where the laser beam(s) are pointed towards the sky or at least in a way to achieve long reach and visibility. This kind of application is independent of any music synchronicity, but more used as fixed installation. Sky Laser or Landmark laser applications can often be seen in Asian countries, but also at special governmental events or installations, where people should be attracted to come visit a special spot.
Outdoor Laser Shows can also be seen as part of amusement park laser shows / multi-media shows or corporate shows. They are also often used for inauguration ceremonies or launches of buildings / architectural objects. Some lighting artists also like to use laser show systems for their outdoor installations.
Please find below an overview of some outdoor laser show projects that were done with laser show projectors of the Laserworld Group:
Find more information: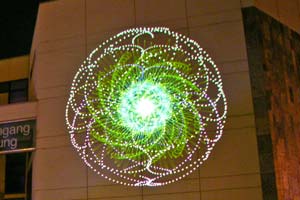 The city of Neckarsulm surprised its citizens with a very special highlight at the city festival in 2005. HB-Laser created nice laser projections towards the walls of a central building - showing animations, spirographic effects as well as the logos of sponsors. But not only the lasers were provided by HB-Laser, but also a strong, professional sound system. Laser systems used: HB-Laser...
City Festival Neckarsulm 2005, Germany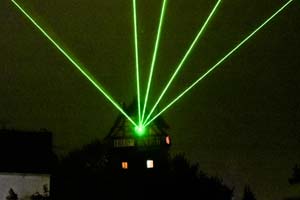 The "Kultturm" project was an artistic laser light installation in 2004 that established a link between the 5 culturally important ancient city wall towers of the City of Schwäbisch Gmünd, Germany. To create this optical effect, HB-Laser used a strong LightCube laser show system with 10W power and a Jenoptik JenLas disc laser source. jsnThemeGridjQuery(function()...
Kultturm Projekt - Schwäbisch Gmünd, Germany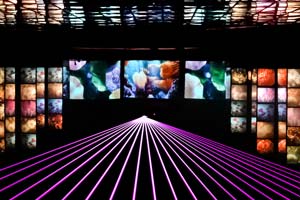 The implementation of a massive show at Azadi Square Museum in Teheran, Iran, was the largest laser and multimedia project installation until that point (2004). The implementation was realized by HB-Laser. This project not only incorporated different laser show parts, but also a variety of different other media that needed to be implemented. HB-Laser provided screen as well as screen content...
Laser installation at Azadi Square Museum,...