Laser Show References: Nightclub, Bar, Disco - laser shows and laser installations
A laser show in a nightclub, disco or bar is quite common nowadays, however many nightclubs still either have very old laser show equipment or don't know how to use their lasers properly to create the maximum effect. Laserworld offers state-of-the art laser show setups for nightclubs, discotheques and bars. Many nightclub laser show references from around the world show the many different possibilities to set up / install a laser show in such an environment. As laser shows in nightclubs usually are live operated (not pre-programmed), the laser show setup needs to be easily operable by a lighting operator, as in many cases there is no separate Laser Jockey to control the show.
Most nightclubs rely on computer controlled laser show systems, as they provide maximum flexibility, but others require DMX controlled laser show setups to better match the existing lighting controls. Laserworld helps the very nightclub / discotheque / bar to find the ideal laser show setup for their needs - from the technical perspective, the implementation, the control as well as an affordable price. Laserworld has an own laser show implementation team that helps nightclubs and discotheques to set up their laser show on site - all over the world. See some laser show references from nightclubs, discotheques and bars below.
Find more information: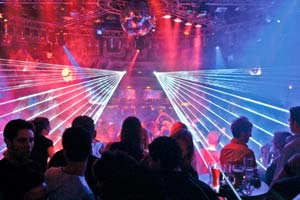 The FunPark in Marburg decided to go for a big and versatile laser show system back in 2004. They not only required a normal one-scanner system, but wanted to go big. That's why we installed a massive setup with different satellites and optical grating options. A Spectra-Physics Chroma 5 with around 6W whitelight power was installed with two individually controllable scanner outputs and...
Nightclub FunPark in Marburg / Germany - laser...