Laserworld presents the new SparkBlaster, a fountain machine for indoor and outdoor applications. The non-pyrotechnic spark generators create cold spark fountains from a granulate. These sparks come out of the SparkBlaster units at a low temperature and do not cause any fire hazard – unlike pyrotechnic effects.

The Spark Blaster is fully controllable through two DMX channels and thus seamlessly integrated with existing lighting setups. The display at the back of the device allows for an easy temperature check during the heat-up period. After having reached the operating temperature, the SparkBlaster can emit sparks with no reheating time. It is possible to adjust the sparks emission height via DMX.
The SparkBlaster spark effects generators are perfectly suitable for the use at festivals, on any kind of stage or by mobile DJs. They create spectacular special effects indoor as well as outdoor.
There is no explosive content, nor is there any hazardous content to deal with. The single-handle design makes it easy to transport and protects the connectors at the back of the unit at the same time. As there are no air inlets at the side of the SparkBlaster units, it is possible to place several units side-by-side to create dense walls of spark fountains.
The special granulate for the SparkBlaster is affordable and easy to handle. It comes in packages of 250 g that last for about 20 minutes.
The MSRP for the SparkBlaster is 1395.- € or $1579.- excl. VAT, excl. shipping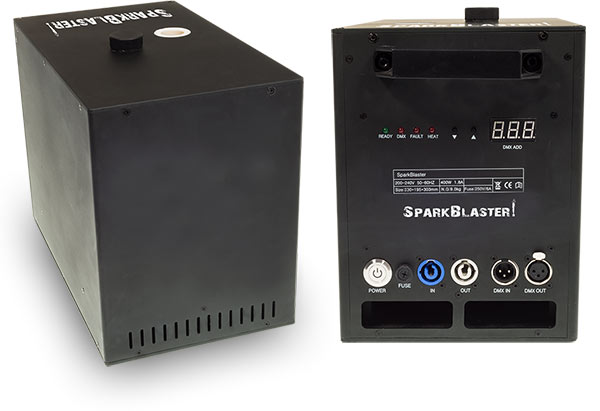 Further details at the manufacturers' page: https://www.sparkblaster.com

Buy online at: https://www.laserworld.com/shop/sparkblaster