Laserworld PL-5500RGB Outdoor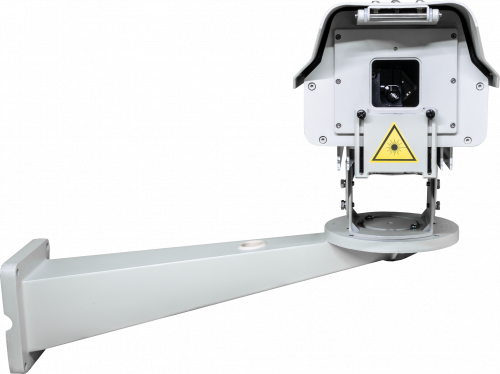 Powerful outdoor RGB whitelight laser for architectural illumination, mappings or logo projections with integrated ShowNET network interface.
Full feature laser show software license included!
5'500 mW guaranteed power
Graphics capable - 45 [email protected]° ILDA
Max scan angle 50°
Full colour mixing - analog modulation
Sharp intense beams – ca. 5.0 mm beam diameter and low divergence of 1.0 mrad
Save safety settings direct to the laser through Admin Tool
Free computer control software – Showeditor - upgradable to Showcontroller
ShowNET mainboard
as standard:
Various control options: ILDA, Professional DMX and ArtNET (two modes), LAN (computer control, integrated DAC), Stand-Alone Operation, ILDA Streaming Receiver, Master-Slave
Create custom content, store it inside the laser and play it back in different modes
Free laser show control software included

STAND-ALONE MODE:
The laser operates stand-alone and does not need and control. It plays back the content stored on the laser's mainboard.

ArtNET Control mode

LAN MODE:
The laser can be controlled over LAN - this can be either direct software control, or ArtNET or similar (depending on the main board)

ILDA Streaming

SHOWNET INSIDE:
The laser is equipped with the advanced ShowNET laser mainboard which brings a multitude of features to the laser and makes it an intelligent lighting device.

SHOWEDITOR INCLUDED:
The full version of the laser show control software Showeditor is included in delivery.
READ MORE PRODUCT DETAILS

The Laserworld PL-5500RGB Outdoor is especially designed for the use as projection laser in an ourdoor environment for fixed installations. It is equipped with reliable diode laser technology and fast scanners for clear logo and pattern projections.

The housing of the Laserworld PL-5500RGB Outdoor is rain proof and makes this laser well suitable for architecture projections, laser mappings or logo displays.

The Laserworld PL-5500RGB Outdoor comes with

integrated ShowNET network interface and free laser show software

. Details in the box below.

The show laser light system is completely equipped with diode laser sources and has a

good white balance

, with

linear color fading

behaviour and

high visibility

.

Advantages of the Laserworld PL-5500RGB Outdoor are:

great for logo projections or use for architectural illumination
can be used as stand-alone device or with direct control
brilliant colors with great linear color fading behavior
easy to operate, ShowNET and free software included
including Safety Unit

The Laserworld PL-5500RGB Outdoor has a beam diameter of about ca. 5.0 mm and beam divergence of ca. 1.0 mrad.
Guaranteed output power at aperture is 5'500 mW. 1'100 mW / 638 nm (red), 1'600 mW / 520 nm (green), 3'000 mW / 450 nm (blue).
Fast scanners work at a speed of 45 [email protected]° ILDA and can do a max. scan angle of 50°.

The complete projector is built rain proof and is cooled through the external cooling fins (bottom part). Thus the maintenance effort is kept very low.
The show laser has an internal PSU for easy handling.
A Safety Unit is included in delivery.

Operating temperature: -5°C to +40°C

+ Integrated ShowNET incl. free laser show software

The Laserworld PL-5500RGB Outdoor features an integrated ShowNET network interface with free laser control software included!
Start with your own professional laser show thanks to the intuitive Showeditor laser show software which comes with every new Laserworld PL-5500RGB Outdoor for free. The Showcontroller software is supported as well and can be purchased additionally.
The integrated ShowNET allows for direct input through LAN. It is possible to trigger single frames via ArtNet. You can play custom frames and shows from an integrated SD card (included in delivery) – even in stand-alone mode!
There are two different DMX modes:
(1) DJ Mode with the most used features for beginners. Only a few DMX channels are used for a quick and easy access to the most important adjustments directly at the laser system.
(2) Professional Mode with all DMX features especially for users with a DMX console. All adjustments can be triggered and allow for full control of the professional laser show.
The integrated ShowNET works as DAC (digital to analog converter) and enables ILDA streaming.

TECHNICAL DETAILS

Guaranteed Power at aperture

5'500 mW

Power Red

1'100 mW / 638 nm

Power Green

1'600 mW / 520 nm

Power Blue

3'000 mW / 450 nm

Beam Specifications*

ca. 5.0 mm / 1.0 mrad

Operation Modes

LAN, ArtNet, integrated SD card, stand-alone, ILDA streaming

Basic Patterns

over 120 (layers, tunnels, fences, waves, etc.)

Accessories

Wall-mount, Safety Unit, manual; full version Showeditor software license included

Power Supply

85-250 V AC 50/60 Hz

Dimensions

550 x 200 x 180 mm (L x W x H)

Download Technical Datasheet

*Due to Advanced Optical Correction technology used in our laser systems the optical power of each colour within installed laser module(s) may slightly differ from the specification of respective laser module(s). Divergence FWHM average depending on model.

Downloads to this product