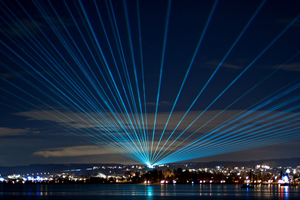 Laser Light in the Middle East
The Middle East comprises the countries of the former Ottoman empire: Egypt, Syria, Lebanon, Israel, Palestine, Jordan, Saudi Arabia, Bahrain, Kuwait, Oman, Qatar, United Arab Emirates, Yemen, Iran and Iraq. Also Turkey counts to the traditional Middle East.
The demand for show laser systems on these markets has increased more and more because of the general growth on these markets during the last years. Yet these are not completely opened up in the
showlaser
branche.
However, some of the countries of the Middle East provide ideal conditions for
showlaser
applications and
lasershows
. Regions like Egypt, the Lebanon or the countries of the UAE are popular travel destinations, that offer everything, a tourist desires: long traditions and culture, tourist attractions, warm temperatures, beaches and seas.
Possible events for laser light shows
Lasershows
make official occasions or events for tourists a special experience. Tourists and visitors may be emotionalized by
lasershows
in hotels, on cruisers, etc.
Also large scale events like the FIFA World Cup 2022 in Qatar might be a potential occasion for a laser or
multimedia show
.
Showlaser
s are an amazing highlight of each opening or closing ceremony and fascinate the spectators. The
laser light
underlines the music and may be combined with pyrotechnics, such as fireworks, water effects and other media. Also happenings as the annual Abu Dhabi Film Festival or one of the numerous festivals and events in the Middle East would be enhanced by a professional
lasershow
.
The countries of the Middle East provide some great places that are predestinated for laser and
multimedia show
s: from the pyramides and ancient temples in Egypt, the ancient sites in Turkey (as the theatres and ruins of Ephesos and Aspendos) or the history-charged places in Israel to the spectacular buildings of the Emirates or the famous Dubai Fountains (which would be an amazing scenery for a
laser show
combined with water elements). And these are only a few of the thousands of possibilities one would have for breathtaking shows in the Middle East region.
Weddings in the Middle East are celebrated as large scale events - even
lasershow
s are frequently part of the wedding parties.
The region also has got an own exhibition for sound and light technologies: the PALME Middle East takes place in Dubai every year (Laserworld has had a booth there in 2010 for example).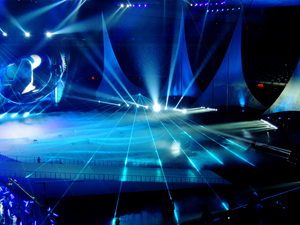 Lasershow in the Middle East:
Lasershow
s in the Middle East could support:
World Championship
Football Game
Football World Cup
Middle East Rally Championship
Formula 1 Grand Prix Bahrain
Formula 1 Abu Dhabi Grand Prix
Rugby Game
Middle East Sports Event
Sporting events
Inauguration
Concert
Parade
Festival
All this kind of events can perfectly be accompaigned by lasershow or other
laser display
applications.
If you plan to set up a
laser light
show or multimedia event in those outstanding areas, just contact
[email protected]
. We offer rental devices and accessories and also complete project solutions and implementations for highly professioanl shows together with our partners