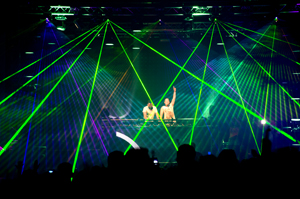 Scandinavia geographically denotes the Scandinavian Peninsula and consists of Norway and Sweden; historically and culturally also Denmark belongs to Scandinavia. If we refer to Scandinavia the term often includes Finland, Iceland and the Faroe Islands, that are associates historically with the three Scandinavian countries.
Laser Light in Scandinavia
Although Scandinavia has got it's own, quasi "natural lasershow" with the aurora borealis during the winter months, the demand for show laser systems in the Scandinavian countries grows. Laserworld and its partners and clients already did some awesome lasershows there, some examples: the
Electronic Festival in Aarhus - Elektronik III Ridehuset, Denmark
, the
Birkerod event
in Denmark or
several events in Sweden
.
In 2014 the Song Contest will take place in Denmark (the Contest took place in Scandinavia many times). Music events like the ESC often use
laser light
shows that perfectly fit to the music. The laser beams intensify the effect of the music and laser graphics in the background may underline the song and its topic perfectly.
Numerous festivals are celebrated in the Scandinavian countries during the year. A huge event is the Copenhagen Carnival in May that was inspired by the famous Carnival in Rio but at the same time is a world music festival with seven stages - a perfect locality for a
laser light
show. As the sun does not rise for some days or months during the polar night, it is even possible to implement outdoor lasershows in the middle of the day.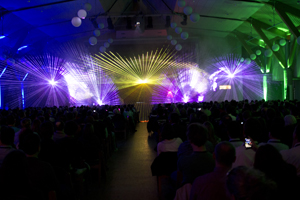 Lasershow in Scandinavia:
Lasershows in Scandinavia could support:
Olympic Games
Olympic Winter Games
World Championship
Athletics Championship
Football Game
Football World Cup
Sporting events
Inauguration
Crowning ceremony / Coronation
Song Contest
Concert
Parade
Festival
All this kind of events can perfectly be accompaigned by lasershow or other
laser display
applications.
If you plan a laser or
multimedia show
in the Scandinavian region, please contact us:
[email protected]
. Besides laser rental we also offer complete laser show implementation and realization.