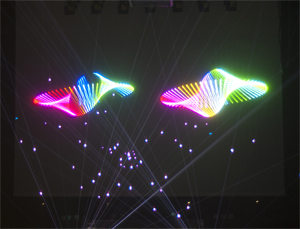 Laser Light in India
India belongs to South Asia and lies on rank two of the most populated countries of the world. It is regarded as newly industrialised country and is one of the fastest-growing economies worldwide. India's impressive market growth also applies for the technological sector. Therefore also show laser technique gets more important.
Even the tourism branche grows, hence more occasions for
laser light
shows arise. But besides touristic venues also official events may be accompanied by laser or
multimedia show
s, to create special and fascinating highlights.
Possible official events and festivities that might be underlined by
showlaser
s could be the Republic Day of India on 26. January or the Independence Day of India, taking place on August, 15. and commemorating India's independence from British rule in 1947.
Musical performances are very popular in India.
Lasershows
synchronous to music are an amazing experience and may be combined with other great effects - water fountains and screens or fireworks, etc.
A huge Indian spring festival is the festival of colours, called Holi, celebrated on full moon in February / March. It lasts two, in some regions ten days. In the course of this festival one could arrange a
laser light
show, too. In India it is also common to use
laser shows
at wedding parties.
Laserworld has got a booth on one of India's most important light and sound exhibitions, the PalmExpo in Mumbai every year in order to present our latest show lasers technologies. If you're planning to set up a
laser show
or multimedia event in India, just contact
[email protected]
. We offer rental devices and accessories and also complete project solutions and implementations for highly professioanl shows together with our partner in India, Modern Stage Service.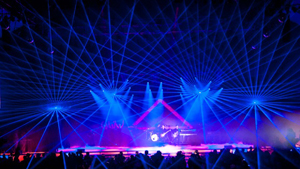 Lasershow in India:
Lasershows
in India could support:
Cricket World Cup
Boxing Championship
Hockey Cup and Championship
Hockey Champions Trophy
Asian Games
Formula 1 Grand Prix India
Wedding
Holi, the festival of colours
Football Game
Sporting events
Inauguration
Concert
Parade
Festival
All this kind of events can perfectly be accompaigned by
lasershow
or other
laser display
applications.