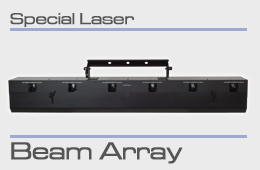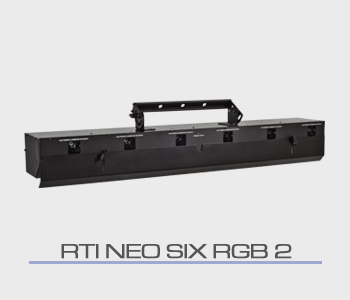 RTI NEO SIX RGB 2
General Information
World's first RGB white light, analog modulated beam array with real scanners. This allows for completely new effects that could have never been created before: Wave effects of parallel beams, three-dimensional twists of beams in mid-air and spectacular color-fades make the RTI NEO SIX RGB a spectacular new lighting effect for professional stage productions.


Fields of Application
The RTI NEO SIX RGB has been especially developed for professional touring and production companies. The effect becomes most spectacular when several NEO SIX play side by side.
A great visual effect for stages, live gigs, nightclubs, show productions and any event which requires a unique visual enhancement.


Operation
The initial beam positioning can also be made through DMX, and the unit can save the settings that were made. So when setting up the stage, each beam can be set to its individual zero-position via DMX, and on exiting the setup mode it preservers the set position – even on power loss. Having this feature makes it easy to set beam positions, e.g. on mirrors, or to avoid manual beam aligning when the units hang high up on the truss.
Besides the general beam positioning and the beam-movement-effects it is also possible to project basic patterns with each output, e.g. circles to create tunnel effects or lines to generate planes in mid-air. These patterns are already built-in and can easily be triggered by DMX.

This email address is being protected from spambots. You need JavaScript enabled to view it.

This email address is being protected from spambots. You need JavaScript enabled to view it.