tarm LM-300 CT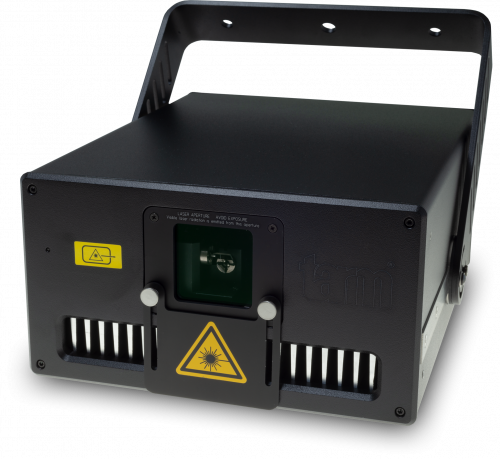 The tarm LM-300 CT is a precision laser with high performance scanning system specifically designed for marking applications. It can be used for projecting plots and outlining in nearly 16 million colors for positioning and aligning of objects.
The tarm LM-300 CT is suitable for industry and trade applications.
Perfect for marking, alignment, aiming, etc.
For industry and trade
High performance scanning
Accurate beam
Multi color capable
Industry grade housing
ShowNET mainboard
as standard:
Various control options: ILDA, Professional DMX and ArtNET (two modes), LAN (computer control, integrated DAC), Stand-Alone Operation, ILDA Streaming Receiver, Master-Slave
Create custom content, store it inside the laser and play it back in different modes
Free laser show control software included

STAND-ALONE MODE:
The laser operates stand-alone and does not need and control. It plays back the content stored on the laser's mainboard.

DMX MODE:
The laser can be controlled with a standard DMX controller or DMX software.

ArtNET Control mode

MASTER-SLAVE MODE:
One laser sends control commands, the other laser follows these. Works with Stand-Alone modes and Sound-to-Light modes.

LAN MODE:
The laser can be controlled over LAN - this can be either direct software control, or ArtNET or similar (depending on the main board)

ILDA MODE:
The laser can be controlled over standard ILDA, the analog control signal for laser control. External Digital-Analog-Converters (DACs) can be used.

ILDA Streaming

SHOWNET INSIDE:
The laser is equipped with the advanced ShowNET laser mainboard which brings a multitude of features to the laser and makes it an intelligent lighting device.

SHOWEDITOR INCLUDED:
The full version of the laser show control software Showeditor is included in delivery.
READ MORE PRODUCT DETAILS

The tarm LM-300 CT is an extremely versatile device for industry or trade applications that require flexible markings or projections of plots or drawings as guidance for aligning objects.
The laser system is multi-color with an analog color modulation, which means that it can display different colors, including white, to allow for more distinguished projections than with just one color. Typical applications are floor marking guidance for exhibitions or industry, e.g. stand layouts, pallet storage space management, container location marking, etc., alignment guidance / alignment aid for the textile industry or general plot guidance for various industries. Especially CNC milling often requires positioning guidance and aid systems, where the tarm LM-300 CT is a perfect solution. It is also suitable for mobile use in trade, to provide plot projections on site or special temporary markings depending on changing requirements.

The laser is built in a robust way to fit the requirements in industry and trade, but at the same time it comprises very accurate laser modules and high precision scanning systems (CT scanners with LAS Turboscan drivers as standard). The output power of the tarm LM-300 CT is kept low (300 mW to make it easier to meet safety requirements with maintaining a good visibility of the projection at the same time.

Only diodes are used as laser sources to ensure durability and long lifespan, and also make the laser system less sensitive to low environmental temperatures (which can cause issues with the older DPSS technology).

The tarm LM-300 CT is standard equipped with the powerful ShowNET laser mainboard, which allows for a variety of different control options, including control via LAN, but also supports full analog control via ILDA. Please contact your key account manager if you need further details on controllability and integration with other control systems.
TECHNICAL DETAILS

Guaranteed Power at aperture

300 mW

Power Green

70 mW / 520 nm

Beam Specifications*

ca. 2mm / 0.7mrad

Scanner

60kpps @ 8° ILDA, CT-6210 LAS TurboScan

Operation Modes

stand-alone, DMX, ArtNET, ILDA, master-slave, direct computer control via LAN, ILDA streaming

Basic Patterns

fully customizable due to built-in intelligent mainboard

Download Technical Datasheet

*Due to Advanced Optical Correction technology used in our laser systems the optical power of each colour within installed laser module(s) may slightly differ from the specification of respective laser module(s). Divergence FWHM average depending on model.