Details

Created: Friday, 04 April 2014 14:08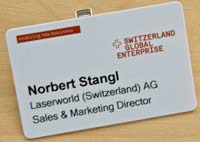 Yesterday we presented our company and the special export logistics solutions we use at the Aussenwirtschaftsforum Schweiz 2014 - a conference of the major export companies in Switzerland. Our good partner DHL Express, who handles our international logistics, invited us to present our company and logistics solutions to the executives of the major Swiss export companies.


We were quite surprised when we received the inquiry for doing so, as we didn't expect to be a "special" customer to

DHL Express

in

Switzerland

. But we obviously have one of the most international/global shipment profiles in Switzerland amongst DHL Express' customers, meaning that we serve a very big variety of different countries with our shipments. Besides that it seems that we also managed to boost our shipping volume dramatically over the past years.

Michael Jutzi, Director Marketing & Business Development, did a presentation about

DHL

and the special logistics solutions for global exports, whereas Christian Clemens, Director of Organization & Purchase at

Laserworld

, added facts about Laserworld, our industry and the advatageous logistics concepts we use to deliver our products the most efficient way - in terms of speed, logistics costs and in relation to service quality.

Over 600 people joined the conference, most of them CEOs or similar. The conference, mainly structured as "meet and greet" event, provided various options for sharing ideas and learning about innovative ideas and concepts.
The organizer of the Aussenwirtschaftsforum 2014 was

Switzerland Global Enterprise

(http://www.s-ge.ch) - an organization taking care of the interests of exporting companies in Switzerland. As Switzerland is a rather small country, the export business plays an important role to the industry and the country.