PALME Expo 2011, Mumbai, India

Bombay Exhibition Centre

Laserworld exhibited together with our exclusive partner for India, Modern Stage Service. Main stage was completely supplied by Modern Stage Service and thus complete lasershow with Laserworld like in the past year (
Palme India 2010
). Center is a SL-24 RGB, supported by several 10W RGB satellite systems. The laserlady did quite a nice job ...
PALM EXPO 2011, Beijing, China

China International Exhibition Centre
Booth 3012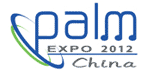 The exhibition at PALM EXPO in China was very successful.

An excellent booth position enabled us to present our high end products Purelight, RTI, SwissLas to many visitors. We received a good and positive feedback for our products Made in Germany and Swiss Made.