Distributed Brand:
Phoenix Showcontroller


the brand
---
Phoenix Showcontroller is a software solution to control show laser systems as well as intelligent lighting fixtures.
Since 2011 Laserworld (Switzerland) AG is worldwide exclusive distributor of Phoenix Showcontroller Software.
The company is located in Hamburg, Germany.
Buy Phoenix products
There are different Phoenix Showcontroller software packages available:
Phoenix Live and Phoenix PRO
Phoenix Live
Mainly aims the DJ/LJ/Live Laser operator, as it provides massive features for easy live laser control. It is possible to create timeline shows as well, however functions are limited.
See more details here:
>> Product details Phoenix LIVE >>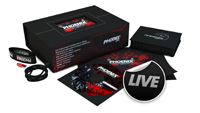 Phoenix PRO
Phoenix PRO is a timeline-based solution that has been developed especially for professional applications: It not only provides a multitude of features but is also very easy to operate. Most actions can be done by drag-and-drop.
See more details, also on Phoenix PRO+, here:
>> Product details Phoenix PRO >>

Special operation modes:
Phoenix Live offers additional special operation modes that ease up the live operation of lasers and help to create amazing shows:

AKAI mode
This mode is already included in the software and can be chosen from the menu. It switches the whole interface to a preset for AKAI APC-40, so it is extremely easy for the operator to plug in the APC-40 MIDI controller and get going.


Laser Harp Mode
Phoenix Live comes with a pre-programmed mode to operate a Laser Harp controller. Like with the AKAI-mode, it can be selected from the menu and provides a different user interface, that is optimized for use with the Laser Harp Controller (you can find the Harp Controller in our webshop)



Download Phoenix Software here: PHOENIX DOWNLOADS - DEMO VERSIONS, SOFTWARE PACKAGES


Phoenix on Prolight+Sound 2012: Interview with Boris Bollinger (CEO of Phoenix).