Overview of the Lasershow Designer product family
Lasershow
Designer 2000 is a world-wide spread software solution for professional control of show laser systems. It's possible to create own
laser shows
as well as to play existing shows.
The software is intuitively operable, so that even beginners can quickly achieve impressive results. Nevertheless, the software is aimed at high professional users, who want to go
beyond
pure
laser shows
to multimedia spectacles or other sections of the event technology that include laser applications.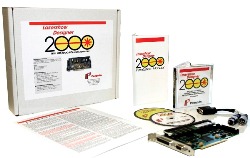 Following is an overview of the various product solutions of the
Lasershow
Designer product family:

Lasershow Designer 2000 - LD-2000
The core of the family is LD-2000. Many accessories and add-ons are available for this all-round solution.
The software has been designed not only for graphic shows, it also has impressive capabilities in the field of
beam show
programming. Together with the specially optimized QM-2000 hardware, which has a high-performance processor chip, the LD-2000 is able to control the laser hardware in a way that output brightness as well as quality of the projected patterns are optimized to the very best quality.
Of course it is possible to operate the LD-2000 software by remote control via other signal sources, such as DMX or video software. Though it is possible to address those other control systems from Pangolin LD-2000 (through time code control).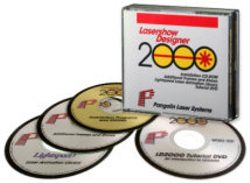 The Lasershow Designer 2000 package includes ...

LD-2000 Software:
A package of different programs for several applications in show laser range.
In addition to the main program, which was specifically designed for timeline-based
lasershow
productions, these are, e.g., test programs and other special control options.
With the various program modules and interfaces this tool is an all-round package with enormous functional range and many design options for beginners and professionals.
The software runs on all Microsoft Windows operating systems (2000, ME, XP, Vista, Windows 7).
An excerpt of the software package:
LD-2000 - drawing and graphic program
Showtime - timeline-based show creation und playback program
Autoplay - easy to use, automatical playback program for completed laser shows, including a running text function
Live! - user interface for live laser operation, e.g. in discos or clubs
TRACE iT - image and graphics tracing program. For conversion of images and graphics from image formats to laser compatible output format.
Lasershow Video VST - real time video to laser converter
Asteroids - a laser output version of the popular classic game
AVS-Laser - music visualisation plugin for WinAmp
more than 120 free shows and demos. 15 shows with licence free music!
over 300,000 laser frames and animations - including the complete Lightspeed Design Library
a tutorial DVD explaining the features of the software in detail
QM-2000 output card (DAC)
The QM-2000 output card converts the digital software signal to an analog control for the laser. In the base version, the QM-2000 card was designed PCI card for desktop computers. The own processor on the card enables an extremely high output quality and excellent brightness laser output.
The computing power of the effective laser output is transferred from the QM-2000 card: the laser frames and the show-contents are loaded throuhg the card, so that the performance and stability is further increased.
For the use of LD-2000 at laptops, Laserworld recommends the optionally available NET-Box: The QM-2000 card can be easily integrated and controlled via standard TCP/IP network. This combination is also offered in our rental pool.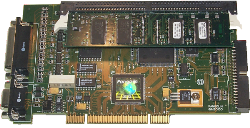 Software license versions for different requirements
Pangolin LD-2000 INTRO
This product variant is for normal requirements. It is designed for one-projector control. If more outputcards are needed, please choose the BASIC variant.
Pangolin LD-2000 BASIC
Additional functions such as simple 3D frame options and normal color configurations. Including the
laser show
Converter FLASH and
laser show
Converter 4D.
Pangolin LD-2000 PROFESSIONAL
This is the top-end solution from Pangolin. Including Live PRO software,
laser show
Converter FLASH and laser show Converter 4D. This product-license version is designed especially for professional laser show applications.
Add-Ons and Plugins for Pangolin LD-2000 Software

Pangolin Lasershow Converter MAX:
Lasershow Converter MAX converts Autodesk 3ds Max graphics and animations to a laser output compatible format.
Even as Pangolin Lasershow Converter MAX LITE available, with limited features.

Pangolin Lasershow Converter FLASH
Lasershow Converter FLASH converts Adobe Flash graphics and animations to a laser output compatible format.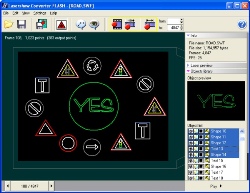 Pangolin Lasershow Converter 4D
Lasershow Converter 4D converts Cinema 4D graphics and animations to laser output compatible format.

Pangolin Live PRO Live laser show Software
Pangolin´s LivePRO software is an add-on to LD-2000, but also a standalone program, which was specifically designed for use in live performance. Specifically for laser operators in discos or clubs, it is important to always have fast direct access to the laser control and to change the patterns and figures easily and efficiently. Beside the graphical and intuitively operable surface LivePRO offers control possibilities for different input signals of controllers, like DMX512 or MIDI. This allows the use of MIDI keyboard or even the simple integration of the laser control software into existing lighting consoles.
Pangolin LivePRO comes with already 1700 pre-programed cues/patterns, which can always be individually adjusted. Overlays of effect and pattern and beat syncronic control are no problem at all.
LivePRo is included in the LD-2000 PROFESSIONAL Suite, for BASIC and INTRO version it is available as an upgrade.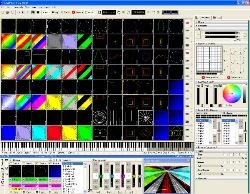 Pangolin Light Converse
Light Converse allows the virtual construction of a stage in 3D and real-time. Especially laser systems can be simulated and merged here. So you have the chance to create detailed stage or installation previews for customers. All LD-2000 shows can be visualized via Light Converse - so, the customer can get a very realistic impression of the real show.

Pangolin Lasershow Timecode TC-2000 SMPTE Controller
This interface can display and read SMPTE time codes for interaction with other programs, e.g. video software, lighting control systems or pyrotechnics.

Pangolin Interactive Messaging Unlimited SMS-2-Laser
SMS can be sent to a particular number. The software controls then the output of the SMS via laser or video. Various filters and settings are possible.
The system consists of the software package plus hardware (mobile modem).