Distributed Brand:Interactive Visions
Interactive Visions


die Marke
---
Interactive Visions is an interaction system with motion detection that can be combined with video projectors, LED walls etc.. Projected images and scenarios to walls, tables, to the ceiling or to the floor become interactive as they react to the motions of people passing by. It is possible to play games, like Black Jack or Virtual Soccer, use it as advertising screen that changes its appearance when people step on the projection, or encourage them to catch fish in a "fishtank" – where the fish is always moving away as soon as someone approaches it.

It´s used in shopping centers, entrance areas, museums, exhibition booths, bars, night clubs, fashion stores and at product launches to surprise, advertise, emphasize and easily get recognized.
Different Interactive Visions Systems are available:
Interactive Visions ULTRA and Interactive Visions PRO
Interactive Visions ULTRA
IVS ULTRA includes a library of 33 effects. All used images can be changed individually.

Interactive Visions ULTRA contains of:
Interactive Visions IVS ULTRA motion detection system
Computer integrated in the IVS ULTRA system, including control software
Camera incl. IR (infrared) filter
IR spot light
LED Hybrid Video Projector, 3000 ANSI lumen, 4:3 projection format; with LED/Laser Hybrid lamp for extremely long lifetime of up to 20.000 hrs
12 V adapter
BNC cable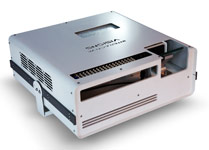 Interactive Visions PRO
IVS PRO includes a library of 33 effects. All images and media can be changed individually.

Interactive Visions PRO contains of:
Interactive Visions PRO System
Small PC, including software
Camera incl. IR (infrared) filter
IR spot light
12 V adapter
BNC cable
can be combined with a video projector, an LED wall or nearly any other form of projection or imaging technology