Distributed Brand:
Laser Harp Controller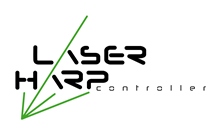 the brand
---
The Laser Harp Controller, manufactured by Prolight, is a special MIDI unit for advanced laser control in live performances.
As the two software solutions Phoenix and Pangolin fully support interaction with the Harp Controller, Laserworld provides this special control solution.
The Laser Harp controller works in three directions:

1. It provides an ILDA output signal, that generates a fan of beams and can be used with every laser that supports ILDA standard protocol. The projection can be modified to a certain extent through different settings. The beams are either deflected 90° with a deflection mirror, so they shine vertically, or the whole projector is set front side up (this is often done with our small Pure Micro units)

2. The Harp controller optical detector detects if beams are interrupted (basically it detects if there is a reflection, that's why it's best to use white gloves to play the harp). Multi-detection is possible.
The vertical laser beam fans look like a harp - and can be played like one.

3. On detection of a beam interruption a MIDI signal is sent out by the Harp Controller unit - that can be then used further by every MIDI compatible receiver. In many cases the MIDI output signal is sent to either Pangolin software or Phoenix LIVE. The latter even provides a special Laser Harp Mode, that is especially optimized for the Prolight Laser Harp.


It is possible to trigger whatever action should be done over MIDI - it doesn't need to be sound, it can also be video, pyro, laser etc.. This solely depends on the custom requirements.